By Alex Girda
Orange County, Calif.—Saddleback College is expanding its footprint in Mission Viejo, Calif., with a new facility. The new Sciences Building was recently completed by contractor C.W. Driver Cos. and is part of a larger initiative that has seen many of the school's facilities being overhauled. The new Sciences Building cost $55 million and will constitute a linking element between the institution's lower and upper campus.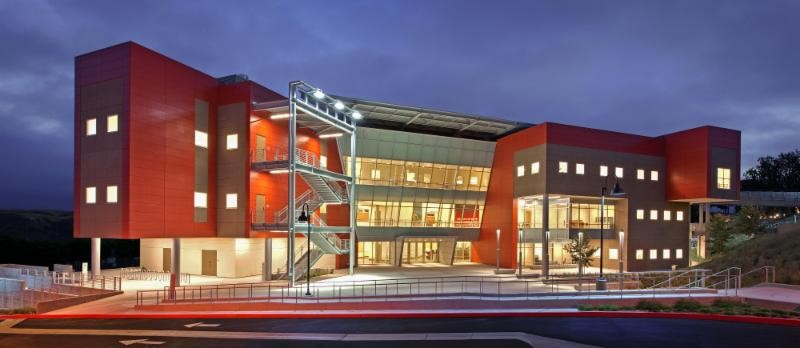 Located at 28000 Marguerite Parkway, the Saddleback College campus is going through an extensive renovation. The new building offers a total of 81,980 square feet of space. Roughly 2,600 square feet will be new classroom space, while 26 new laboratories dedicated to programs including astronomy, biology, chemistry, geology, marine science, physics and related disciplines will take up 44,400 square feet. A new 500-square-foot observatory with 22 telescopes, as well as 1,800 square feet of office space are part of the facility.
Design-wise, the main element of the building will be the central, three-story clear space that opens into a large courtyard and offers exhibit space and demonstration areas. Each of the building's three floors offers office spaces, as well as areas meant for support and gathering. The structure was built to receive LEED Gold certification from the U.S. Green Building Council and to that effect features advanced HVAC, network controlled lighting systems, windows and skylights that provide natural light, as well as a rain-screen building envelope. Also installed to achieve the certification are efficient indoor water fixtures, advanced irrigation systems, rain-screens and stormwater retention basins.
The development team at the new Sciences Building consisted of C.W. Driver's project management team and architecture firm Dougherty + Dougherty Architects.
Image courtesy of C.W. Driver via Nils Timm, Slinmmit Inc.