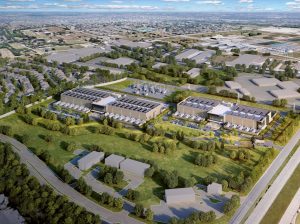 A new data center campus is planned to take shape in the northern part of metro Austin. Sabey Data Centers will develop a 40-acre campus in Round Rock, Texas, with a capacity of 72 megawatts. Last Thursday, the city council approved zoning legislation for the development. Construction is set to begin this summer and wrap up in 2023's first quarter.
Plans call for a two-building hyperscale facility—its first in metro Austin—at 1300 Louis Henna Blvd., on the site of a vacant Sears Teleserv building, which is set to be demolished. The Seattle-based data center provider aims to attract enterprise users of all scales to its campus, citing Austin's growing tech community as one of the main reasons for the expansion. According to the development agreement, the site will also include an electrical substation.
The new facility is designed with water conservation and energy efficiency in mind. Last year in September, Sabey joined a growing list of companies that pledged to achieve net-zero emissions by 2040. At its Austin campus, the developer will utilize high-efficiency chillers and hot-aisle containment systems to sustain this goal.
Data center construction accelerates in Austin
The Round Rock city council approved the economic development agreement in February, which provides tax incentives for the developer. Per the agreement, Sabey will have to invest a minimum of $185 million in real property improvements and $5 million in new equipment and business personal property. Additionally, the company must create a minimum of 20 primary jobs over five years.
Sabey Data Centers currently operates more than 2 million square feet of data center space, with locations in the states of Washington, New York and Virginia. In January, the company announced a 70-megawatt expansion at its Quincy, Wash., campus, the first phase of which is expected to come online in the second half of this year.
Austin has seen a rise in data center development since the start of the year. Last month, Skybox Datacenters and Prologis announced a $548 million data center development in Pflugerville, Texas. The greater Austin-San Antonio region has seen a sharp rise in data center construction—from under 10 MW in the first half of 2018 to around 25 MW at the end of 2021—while vacancy reached 2.5 percent at the end of last year, according to a CBRE report. The recently announced data centers by Skybox and Sabey would see the region's inventory almost doubled, from around 151 MW in 2021.