By Gail Kalinoski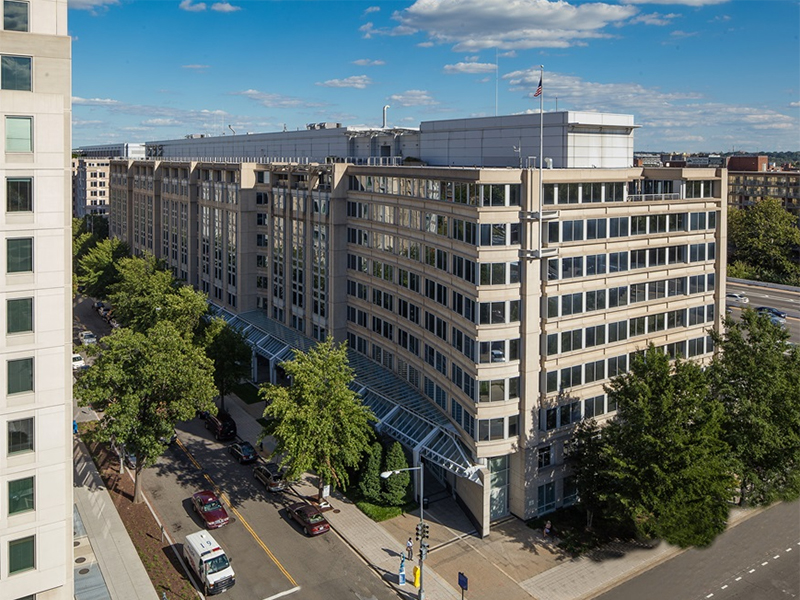 Hana Asset Management Co. Ltd., a South Korean investment firm, has acquired Two Independence Square—NASA headquarters and Piedmont Office Realty Trust's largest Washington, D.C., asset—for approximately $360 million, or $593 per square foot.
The 606,000-square-foot, nine-story office building is located at 300 E St., S.W., and has been fully leased to the National Aeronautics and Space Administration since it was constructed in 1991. Atlanta-based Piedmont acquired the property in November 2002 from Boston Properties in a $345 million portfolio transaction that included One Independence Square, according to Yardi Matrix data. Yardi Matrix stated the price Piedmont paid for Two Independence Square in 2002 was $216.2 million, or $386 per foot.
NASA renewed its lease in 2011, with a term running through 2028. In addition to offices for NASA leadership, the building houses the James E. Webb Memorial Auditorium, a lending library, history office and archives, along with NASA TV production facilities.
"We are very pleased to have executed on the sale of our largest asset in Washington, D.C., generating a substantial capital gain for our shareholders. The opportunity to harvest the value created from a $50 million redevelopment of the property and execution of a 15-year lease with NASA for the entire building, reflects our robust operating capabilities. Sale proceeds will be used to reduce debt and solidify our balance sheet," Brent Smith, Piedmont chief investment officer, said in a prepared statement.
"While we anticipate being a net seller this year, we continue to search for strategic acquisitions in our eight core operating markets, which will further bolster our competitive positioning in the submarkets in which we currently operate," added Keith Willby, vice president of capital markets, who coordinated the sale of Two Independence Square on behalf of Piedmont.
The REIT also noted it had sold Sarasota Commerce Center II, a three-story, 151,915-square-foot multi-tenant building, for $23.5 million, or $158 per square foot, marking its exit from the Sarasota, Fla., market.
The Buying Group          
Ocean West, a Los Angeles-based real estate investment and management firm, advised the South Korean buying group and will serve as the U.S. asset manager and property manager for Two Independence Square. The firm has completed more than $3 billion in commercial real estate transactions and has managed over 50 million square feet throughout the U.S.
Hana Asset Management, a subsidiary of Hana Financial Group, is the largest financial group in Korea and consists of more than 21 subsidiaries including banks, securities, trusts, asset management, investment banks and life insurance. It has 23,000 professionals working around the world and has about $5 billion in assets under management throughout Asia, Europe and the Americas.
Last summer, Hana also made news in the U.S. when it acquired the North American headquarters of Novo Nordisk at 800 Scudders Mill Road in Plainsboro, N.J., for $305 million. The purchase of the 762,000-square-foot office campus from a joint venture of Intercontinental Real Estate Corp., Ivy Equities and LCOR Inc., was one of the largest single-asset transactions in New Jersey in 2016.
Image courtesy Cushman & Wakefield