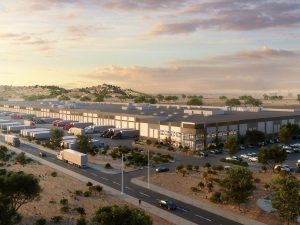 A joint venture between Ryan Cos. and Westcore Properties has broken ground on Hatcher Industrial Park, a two-building business park totaling 906,125 square feet in Glendale, Ariz. Ryan Cos. is the builder, while Ryan A+E Inc. serves as project architect.
According to CommercialEdge, the partnership secured a $61.6 million construction loan from Western Alliance Bank for the speculative project, previously known as Ryan at Woolf Logistics, in June. Completion is slated for June 2023.
---
READ ALSO: Industrial Developers Tackle Construction Challenges
---
Other developers are also drawn to Greater Phoenix. In July, ViaWest Group teamed up with Nicola Wealth Real Estate to kick off construction on Advanced Industrial Park, a 335,066-square-foot development in Mesa, Ariz. Meanwhile, a joint venture between IndiCap and Invesco announced plans for a 1.5 million-square-foot development dubbed Virgin Industrial Park in Glendale, Ariz. The partnership expects to break ground in November on the five-building project.
The Phoenix metro is still ahead with a nation-leading industrial pipeline relative to stock, CommercialEdge shows. As of June, there were more than 43.7 million square feet of industrial developments underway throughout the metro, representing 15.2 percent of the total inventory, four times larger than the national average (3.8 percent). An additional 37.7 percent of the overall stock was in the planning and permitting stages.
Taking shape in a booming industrial market
As of late July, 20 additional industrial projects totaling 12.6 million square feet were underway in a 5-mile radius of Hatcher Industrial Park. Ryan Cos. opted for this area due to "historically low vacancy rates" fueled by companies looking for flexible options, Josh Tracy, vice president of real estate development, said in prepared remarks.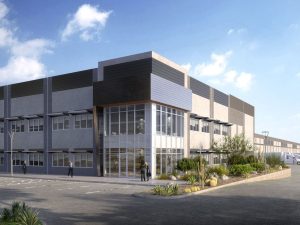 Hatcher Industrial Park will take shape on more than 53 acres at the northeast corner of W. Olive Avenue and N. Reems Road within the 1,340-acre Woolf Logistics Center. The industrial park will feature 40-foot clear heights, six grade level doors and 174 dock high doors.
The co-developers selected JLL to market the property. The leasing team includes Senior Managing Director Marc Hertzberg and Managing Directors Anthony Lydon and Riley Gilbert, together with Associate Kelly Royle.
The development site is 1 mile from Northern Parkway and less than 2 miles from Loop 303, within 12 miles from Phoenix-Goodyear Airport. Notable tenants in the area include PUMA, which leased a 1 million-square-foot facility at the northeast corner of Northern Parkway and Loop 303, but also Red Bull, Mark Anthony Brewing and RAUCH.
Another important presence at Woolf Logistics Center will be Nestle USA. The multinational corporation intends to build a 630,000-square-foot, $675 million manufacturing plant on a 139-acre parcel located between Northern Avenue and Northern Parkway, east of Reems Road and north of Luke Air Force Base.