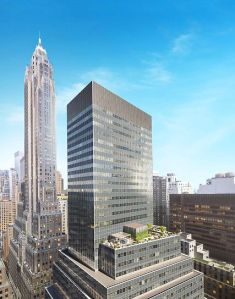 Rudin Management, operated by the Rudin Family, announced it has closed on a $100 million refinancing of 80 Pine Street, the company's 1.2 million-square-foot office tower in Lower Manhattan. The loan was provided by Bank of America.
According to the firm, proceeds from the loan will go toward refinancing existing debt at 80 Pine and funding an "extensive capital expenditure" program in order to reposition the Financial District property. Stretching across a full block between Pearl and Water Streets, the 38-story tower was built in 1960 by Rudin and underwent cosmetic renovations in 2007, according to CommercialEdge data. The high-rise also features nearly 20,000 square feet of retail space.
---
READ ALSO: Top 5 Office Projects Under Construction in Manhattan
---
Last year, the owner kicked off a major campaign to modernize the 60-year-old office building. Architecture firm Fogarty Finger designed the building's new lobby and entrances, upgrades that were completed earlier this year. The improvements included updated flooring, walls, lighting, and new elevator cabs. Last August, Rudin tapped JLL to market the office space at the tower, which has an 800,000-square-foot vacancy as a result of AIG leaving that the owner is hoping to fill with a headquarters location.
The refinancing comes three months after Rudin announced plans for a $25 million makeover of its 3 Times Square office property with joint venture partner Thomson Reuters. First opened in 2001, the 950,000-square-foot office high-rise will get an upgraded façade, amenities, technology and other features. The ownership is partnering with the same architecture firm, FXCollaborative (formerly FXFowle) that originally designed the property to lead the new revamp.
Struggling to rebound
New office development in Manhattan has been sluggish to return to its pre-pandemic figures. Under-construction stock in the borough dipped for the first time month-over-month since the beginning of the year, according to CommercialEdge data. As of May, just under 19.3 million square feet of office was under construction.
The majority of the projects under construction are situated on the island's west side, in the Hudson Yards, Chelsea, and Hell's Kitchen neighborhoods.