By Keith Loria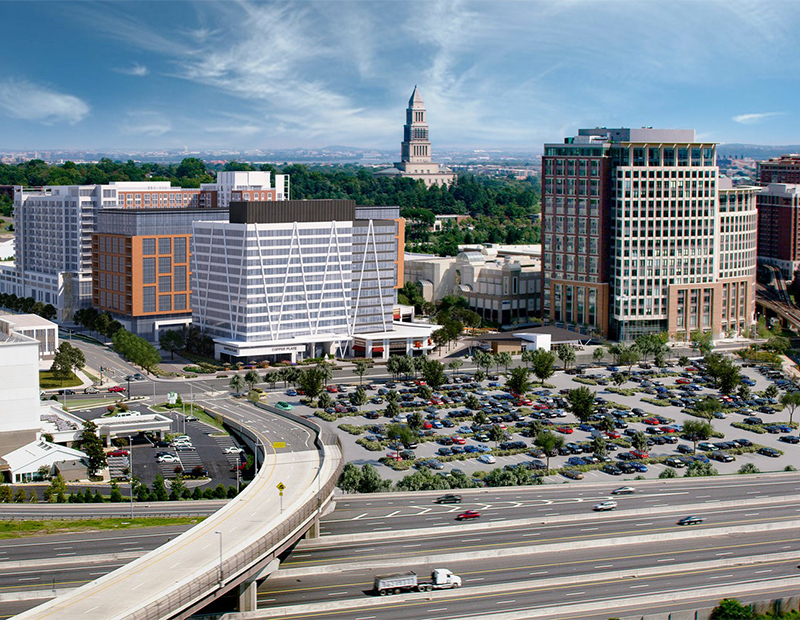 Rubenstein Partners L.P. and Northpoint Realty Partners have unveiled plans for the design and renovations of Carlyle Tower and the Shops at Carlyle Tower, an approximate 365,000-square-foot mixed use project in Alexandria, Va.
When completed, the renovated building will consist of nearly 335,000 square feet of innovative office space in 14 stories and an additional 22,500 square feet of existing retail, including six restaurants. "The fact that it's mixed-use, and has office plus six restaurants as part of the project is the biggest appeal," Steve Evans, Rubenstein's DC market director, told Commercial Property Executive. "The project itself will have a superior amenity package with a tenant lounge and state-of-the-art conference and fitness centers."
Located at 2461 Eisenhower Ave., the joint venture originally acquired the property in late 2015, and re-branded it to Carlyle Tower and the Shops at Carlyle Tower. The prior owner replaced the exterior skin, but Rubenstein and Northpoint will be replacing just about everything else. The renovations include the gutting of the building, renovating elevators, HVAC and common areas, and adding numerous tenant improvements. The changes also include upgrading the retail component and adding another 7,500 square feet of new retail.
"We're taking this old building and doing a complete duct renovation and then we're going to offer a large block of first-class office space right across the street from the metro," Evans said. "We're going to be able to offer this almost-new building at a discount of what a fully-new building would be."
The team also has been working with its neighbor, Perseus Realty and the City of Alexandria, to respond to Amazon's recent HQ2 RFP requirement.
A Growing Area
According to Evans, the submarket has additional office, retail and hotel space that adds to the attractiveness of the area, including a new Wegmans that will open in 2018 and the recently completed 720,000-square-foot National Science Foundation trophy office building that will serve as NSF's new headquarters. "Overall, tenants want to be in the 24/7 live/work/play environment where you can walk to amenities and public transportation," Evans said. "This property has all the things that a tenant is looking for."
The Carlyle Tower office space is being leased by Steve Hoffeditz, Andy Klaff and Ed Clark of Newmark Knight Frank, while Rosenthal Properties' Billy Orlove and Jane Le are leasing the retail space, including the Shops at Carlyle Tower.
"What we try to do is identify opportunities that have an existing foundation but has a lot of upside and room for growth in an improving submarket," he said. "What you have here is a great asset in a great location in a submarket that is just rapidly growing."
Last fall, Rubenstein Partners teamed with a minority equity partner to acquire Sanctuary Park, a premier Class A office park in the North Fulton submarket of Atlanta, for $265 million.
Photo courtesy of Rubenstein