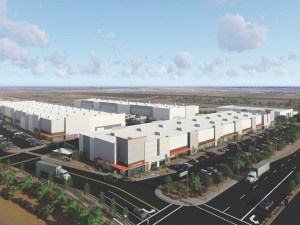 Rosendin Electric Inc. has signed a lease for 146,000 square feet of space at Power 202 Business Park, a three-building, 330,000-square-foot industrial development in Mesa, Ariz. With the assistance of CBRE, the company entered into a five-year lease agreement with landlord Bird Dog Industrial for the Phoenix-area space.
---
READ ALSO: Regent Properties Lands $62M Loan for Phoenix Campus
---
San Jose, Calif.-based Rosendin relied on CBRE to comb the highly competitive Southeast Valley submarket for accommodations of at least 120,000 square feet to service a nearby data center project.
"Demand for 100,000-plus square foot lease spaces has been robust in the Southeast Valley," Mike Parker, a senior vice president with CBRE, told Commercial Property Executive. "Prior to 2018, the 10-year average for deals in excess of 100,000 square feet was seven per annum. In 2020, there were five and so far in 2021 we have seen 11 transactions already, totaling [nearly] 1.5 million square feet!"
Despite the high level of demand for industrial in the area, CBRE managed to structure and close the lease transaction for Rosendin, a 20-year client, within just 48 hours, securing the entire building at 4617 S. Power Road in time to accommodate the tenant's tight schedule for commencing prefabrication operations. Ken McQueen and Chris McClurg of Lee & Associates represented Bird Dog in the transaction.
The COVID-19 connection
Metropolitan Phoenix's industrial market closed out 2020 with record-breaking statistics, and the trend continued into the first quarter of 2021, according to a report by CBRE. The vacancy rate dropped quarter-over-quarter to 5.6 percent and the absorption rose to 5.6 million square feet, the highest net absorption recorded in the area since the fourth quarter of 2013.
"There is a wave of manufacturing business exiting states such as California, which is driving surging demand in Metro Phoenix and the Southeast Valley," said Parker. "Different states handled the response and regulations pertaining to the COVID-19 outbreak differently. California locked down construction sites for a time. Arizona did not. Manufacturers were restricted or unable to operate due to strict pandemic regulations versus other states."
The positive impact of certain consequences of the pandemic persists in Phoenix, and experts anticipate the pattern to hold for the foreseeable future. As noted in the CBRE report, ongoing interest from out-of-state buyers and users due to Phoenix's strong economy and market fundamentals continue to push the local industrial sector to new heights.
"The pandemic has caused employers, as well as employees, to consider other alternatives available to them in a less congested areas, with increased affordability, with less taxation and better street infrastructure," Parker added. "The pandemic caused many to reassess priorities. Arizona is likely to benefit from this change for years to come."