March 16, 2011
By Barbra Murray, Contributing Editor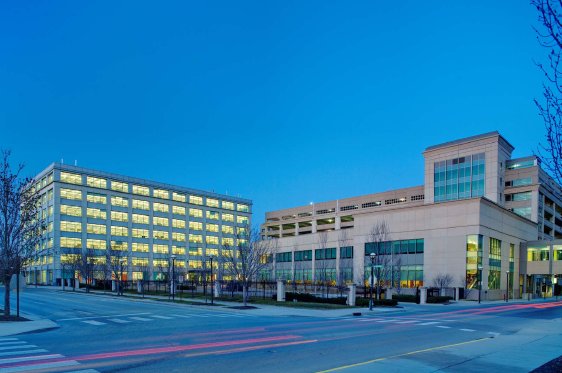 Rolls-Royce North America Inc. has dotted the final i's and crossed the last t's on a 404,000-square-foot office lease at the former Eli Lilly & Co. Faris campus in Indianapolis. The aircraft engine-maker's commitment will allow it to combine 2,500 staff members, currently working at six different area locations, under one state-of-the-art roof in the city's central business district.
Developed at a cost of $58 million, the four-structure Faris campus was designed by Browning Day Mullins Dierdorf Architects and reached completion in 2001 and welcomed Eli Lilly employees in 2002. However, the property, which includes a 1,500-space parking facility and a 40,000 square-foot cafeteria and meeting center, has been collecting dust since the pharmaceutical giant slashed its staff and relocated what was left of it to other sites in 2010.
CB Richard Ellis marketed the space and with the closing of the lease agreement with Rolls-Royce, the commercial real estate services firm has helped provide some much-needed relief to the Indianapolis office market. From the close of 2009 to the close of 2010, the average Class A office vacancy rate downtown skyrocketed from an already high 16.9 percent to a staggering 21.2 percent, CBRE noted in a report, adding, "This large increase in vacancy was primarily due to Eli Lilly vacating Faris I and II, which added 321,000 square feet of vacant space."
UGL Services ushered Rolls-Royce through the entire leasing process beginning with site selection and ending with the completion of the long-term agreement. "This was not only an extremely cost effective, initial term occupancy opportunity, but it provides a long-term low-cost solution for 2,500 employees," Michael Cook, vice president with UGL, commented. The campus has now been renamed the Rolls-Royce Meridian Center.
Rolls-Royce made other real estate news recently, with the completion of the first phase of its $500 million, 1,000-acre aerospace complex in Prince George's County, Va. The property marks the first Rolls-Royce manufacturing facility to be built from the ground up in the U.S.