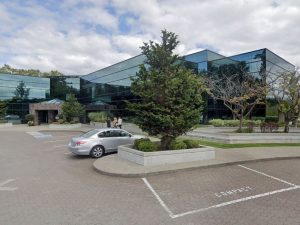 Rockwood Capital has purchased Lincoln Plaza, a three-building office campus totaling 148,501 square feet in Bellevue, Wash., public records show. Des Moines, Iowa-based Principal Real Estate Investors sold the Class B asset for $84.1 million. This marks a $6.1 million premium over the June listing price, according to The Registry. CommercialEdge information shows the property previously changed hands in 2005, for $38.5 million.
Situated on a 9-acre site at 11225, 11235 and 11245 SE Sixth St., Lincoln Plaza comprises three two-story buildings completed in 1988. Featuring 25,000-square-foot floorplates and a subterranean parking garage offering a ratio of 3.8 spaces per 1,000 square feet, the property recently underwent a revitalization project that included an exterior canopy redesign, lobby modernization and elevator bay upgrades.
The office campus is 1 mile from downtown Bellevue and 10 miles east of downtown Seattle, just west of Interstate 405. The location is easily accessible via public transportation, having several bus stations nearby and being within walking distance of a future light rail station set to become operational in 2023.
Near Amazon's nest
Lincoln Plaza is 1 mile south of the 43-story office tower Amazon is developing as part of its Bellevue 600 project. Upon its 2024 completion, the skyscraper will be the tallest building in Bellevue, surpassing the 42-story 555 Tower, a development that was part of a 2 million-square-foot lease by Amazon last September.
The e-commerce giant continues to have the largest impact on Bellevue's office market, currently developing or leasing some 5.5 million square feet. One of its leased assets, the 609,000-square-foot Artise development slated for a 2023 completion, recently became the beneficiary of a $468.7 million construction loan from accounts managed by KKR.
An active office market
Bellevue office assets remained in high demand in recent years. CommercialEdge data shows 10 properties totaling nearly 1.6 million square feet have changed hands in the Seattle suburb since the beginning of the year, representing 21 percent of the metro's transaction volume.
One of Bellevue's largest deals year-to-date involved the 282,000-square-foot office campus that American Assets Trust acquired for $125 million in July. The property is adjacent to Microsoft's Advanta Edge Campus, a 601,081-square-foot office asset that traded in mid-March for $169 million.
Amazon is not the only tech giant making headlines in local real estate. Last September, Facebook paid $390 million for REI Co-op's recently completed corporate campus, a 400,000-square-foot property located 2 miles north of Lincoln Plaza.