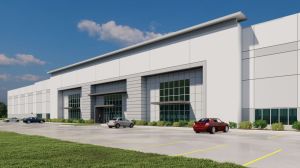 Rockefeller Group has entered South Carolina's Greenville/Spartanburg market with its first industrial project in the area. The company is planning to break ground on Duncan Logistics Center, a three-building development, in the second quarter of this year.
For the project, Rockefeller Group has acquired 98 acres in Duncan, S.C. The company will use the site for the construction of three industrial warehouses totaling 827,000 square feet. The buildings will be developed in two phases. Harper General Contractors and MCA Architects will provide design-build services, while SeamonWhiteside will serve as the project's civil engineer.
---
READ ALSO: Investors Ride the Wave of a Cyclical CRE Market
---
The first phase includes a 431,000-square-foot cross-dock building and a 142,000-square-foot rear-load building that will be developed simultaneously. The larger of the two buildings will feature 36-foot clear ceiling heights, 54- by 50-foot column spacing, and as many as 233 parking spaces and 144 trailer spaces. The rear-load building will have 32-foot clear ceiling heights, 52- by 50-foot column spacing and as many as 140 parking spaces and 44 trailer spaces. The first phase will also include a build-to-suit pad that can accommodate a 254,000-square-foot rear-load building.
Rockefeller Group expects to complete the first two buildings in the fourth quarter of 2022 but hasn't yet released details on when it will start the second phase. The company told Commercial Property Executive that the entire project is expected to be completed by the first quarter of 2025.
Steven McGee, director of southeast development for Rockefeller Group, said in prepared remarks that the project was an excellent opportunity for the company to enter one of Southeast's most sought-after areas.
Prime Southeastern location
McGee also said that Duncan Logistics Center's central location will give potential tenants the ability to connect to more than 100 million consumers within a day's drive. The project is located between Greenville and Spartanburg off Highway 290, which connects to Interstate 85. Through I-85, Duncan Logistics Center has connections to five of the area's major markets, including Atlanta, Greenville-Spartanburg, Charlotte, N.C., Greensboro, N.C., and Raleigh-Durham, N.C. The project's location can also connect tenants to the area's ports, airports and other major cities.
Further east, Rockefeller Group is also nearing completion on its 1 million-square-foot industrial park in Fort Mill, S.C. that started construction in December 2020. The Fort Mill project will be the company's second development in the Charlotte area in the last two years. McGee also said in prepared remarks that the Fort Mill project has received significant interest from prospective tenants who also spoke about the appeal of the Greenville/Spartanburg market.
The exclusive leasing agents for Duncan Logistics Center are Campbell Lewis, SIOR and Nick Hollstegge of CBRE.