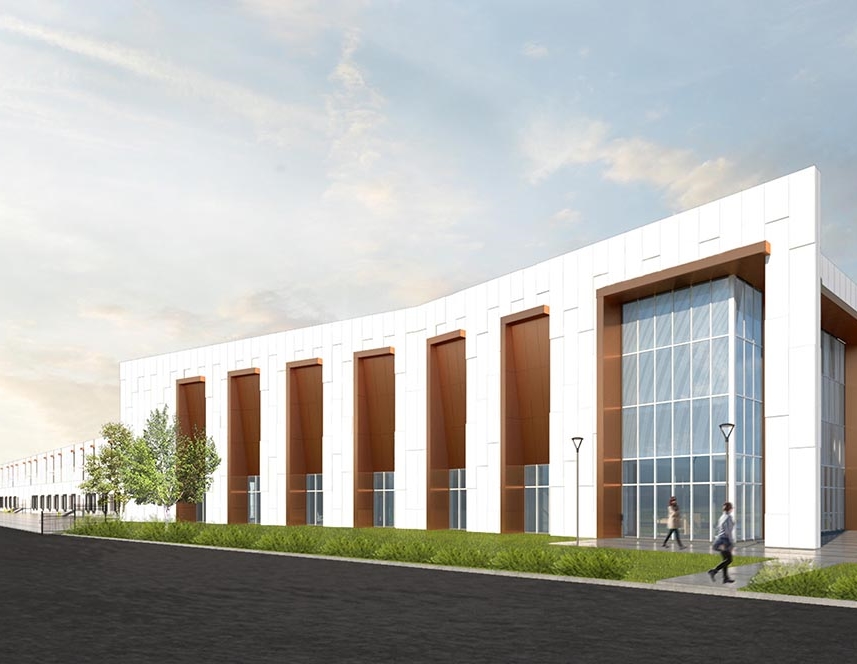 Rockefeller Group began construction on 10Edison, a 900,000-square-foot industrial project in Edison, N.J. The property will be developed as a speculative distribution center with completion slated for August 2020.
---
READ ALSO: Nike Jumps Into Phoenix With $70M Acquisition
---
Located at 10 Edison Ave. off of Route 27, the development will take shape on a 56-acre property. The building will feature the ability to cross-dock where incoming trucks can load into outgoing trucks with little storage downtime. The development will also have 150 dock doors, 464 car parking stalls and 206 trailer parking stalls. When completed, the property will be valued at around $200 million, according to Mark Shearer, Rockefeller Group's New Jersey/Pennsylvania senior vice president & regional development officer.
"The 40-foot ceilings give the end user the ability to add an additional pallet position to their racks, which increases the volume of product that can be stored in the building and it gives the user flexibility to add multiple levels of material handling equipment and conveyors," Shearer told Commercial Property Executive.
CBRE's Vice Chairman Thomas Monahan is joined by Stephen D'Amato and Larry Schiffenhaus in leading the leasing efforts for 10Edison. Monahan added that the Northern New Jersey market lacks properties larger than 750,000 square feet, especially near the New Jersey Turnpike corridor.
Repurposing and improving
The property's previous life was an ExxonMobil research lab and synthetic oil facility that was in business from 1949 to 2016. Rockefeller bought the property in 2017 and began a two-year process where they worked with the Town of Edison on improving the site's infrastructure and zoning. Their work has also led to traffic improvements on Route 27, Shearer explained to CPE.
This is Rockefeller's second distribution center with 40-foot ceilings in New Jersey, as in 2015 they developed Cranbury Station Park, a similarly sized 930,000-square-foot development in Jersey's Cranbury Township. Rockefeller has been active in the U.S. industrial market, recently leasing out nearly 140,000 square feet to an electronics distributor in their Tri-City Industrial Complex in San Bernardino, Calif.