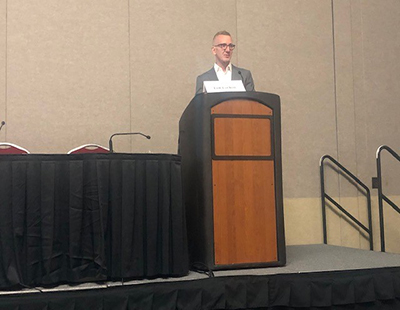 Millennials seem to be the main focus of office owners and managers today, but that doesn't mean there aren't leaders in the workforce from other generations.
At this year's BOMA International Conference & Expo, which took place from June 22 to June 25 in Salt Lake City, RSP Architect's Director of Workplace Strategy Erik Lucken discussed the changing dynamics of the workplace when it comes to the different generations: Silent, Baby Boomers, Gen X, Millennials and Gen Z.
By 2026, workers over the age of 55 will be the fastest growing segment of the U.S. workforce. Back in 1996, workers within that demographic made up the smallest share of the workforce, where in 2026 it will be the largest, with a 92 percent increase for those 75 and over.
---
READ ALSO: Achieving Net-Zero Energy in Office Properties
---
"People are living longer and being healthier, which allows them to work longer," said Lucken. "Three-quarters of U.S. adults say they plan to work past retirement age, not because they necessarily have to, but because they want to." Eighteen percent said it would be to stay mentally alert, 15 percent said to remain physically active and 14 percent said it would give them a sense of purpose.
Continuing to work into older age has been shown to have positive impacts on physical, cognitive and emotional health. However, nearly one-third of Baby Boomers had no money saved in their retirement plans in 2014, creating a need to work. Challenges in planning for retirement include healthcare costs, spending and the cost of living, and the average life span. According to the National Bureau of Economic Research, delaying retirement for just three to six months does to the standard of living after retiring what an entire percentage point of 30 years of earning would do.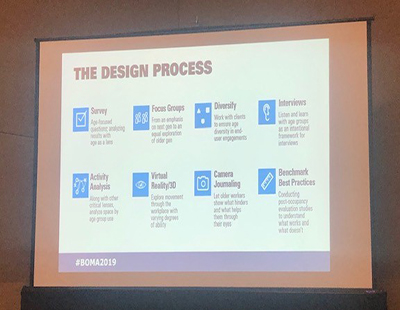 "Whatever economic challenges the over 65s are facing these days, they pale by comparison with the money troubles of the young," noted Lucken. Over half of Americans have less than $10,000 in savings and investments.
People across all generations are looking for work that matters to them, makes a difference, and in which they can grow. This includes making a positive impact on their organization, helping solve social and/or environmental challenges, working with a diverse group of people, and more.
5 factors for career longevity:
keep skills relevant
remain engaged and enthusiastic
stay healthy, mind and body
maintain work-life balance
be productive
When designing an office space for all generations, there's several ways in which to promote a healthy work environment fit for the entire workforce. Examples of this include age-focused surveys, focus groups, camera journaling, interviews and the use of virtual reality.