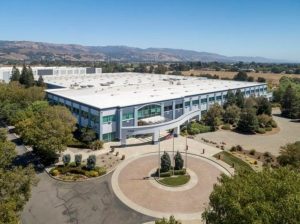 A joint venture between Ridge Capital Investors and Westbrook Partners has acquired a 258,122-square-foot former Shoe Palace industrial facility in Morgan Hill, Calif., for $45 million. Bridge Group Investments LLC previously acquired the asset in 2013 for $14.5 million, CommercialEdge data shows. CBRE brokered the latest transaction and arranged a $39.5 million non-recourse, floating-rate, three-year loan, provided through a bank.
Completed in 1997, the property is part of the 761,522-square-foot Morgan Hill Ranch Business Park, the fifth-largest in the Silicon Valley area, according to CBRE. Located at 755 Jarvis Drive, the property is less than 1 mile from U.S. Route 101 and South Valley Freeway, some 20 miles from San Jose. The asset occupies 14.7 acres and encompasses a two-story building with 30-foot clear heights, loading dock doors and 458 parking spaces. The new ownership is planning interior upgrades and mechanicals and increased parking at the property.
Executive Vice Presidents Scott Prosser, Joe Moriarty and Rebecca Perlmutter, alongside Vice President Jack DePuy of CBRE worked on the transaction. Executive Vice Presidents Brian Matteoni and Chip Sutherland will be the leasing brokers. Executive Vice Presidents Mike Walker and Brad Zampa of the Debt & Structured Finance team arranged the financing.
Just last week, Invesco Real Estate acquired Butterfield 5 Technology Park, a 410,100-square-foot industrial asset in Morgan Hill. Trammell Crow Co. and CBRE Investment Management sold the asset.