By Gail Kalinoski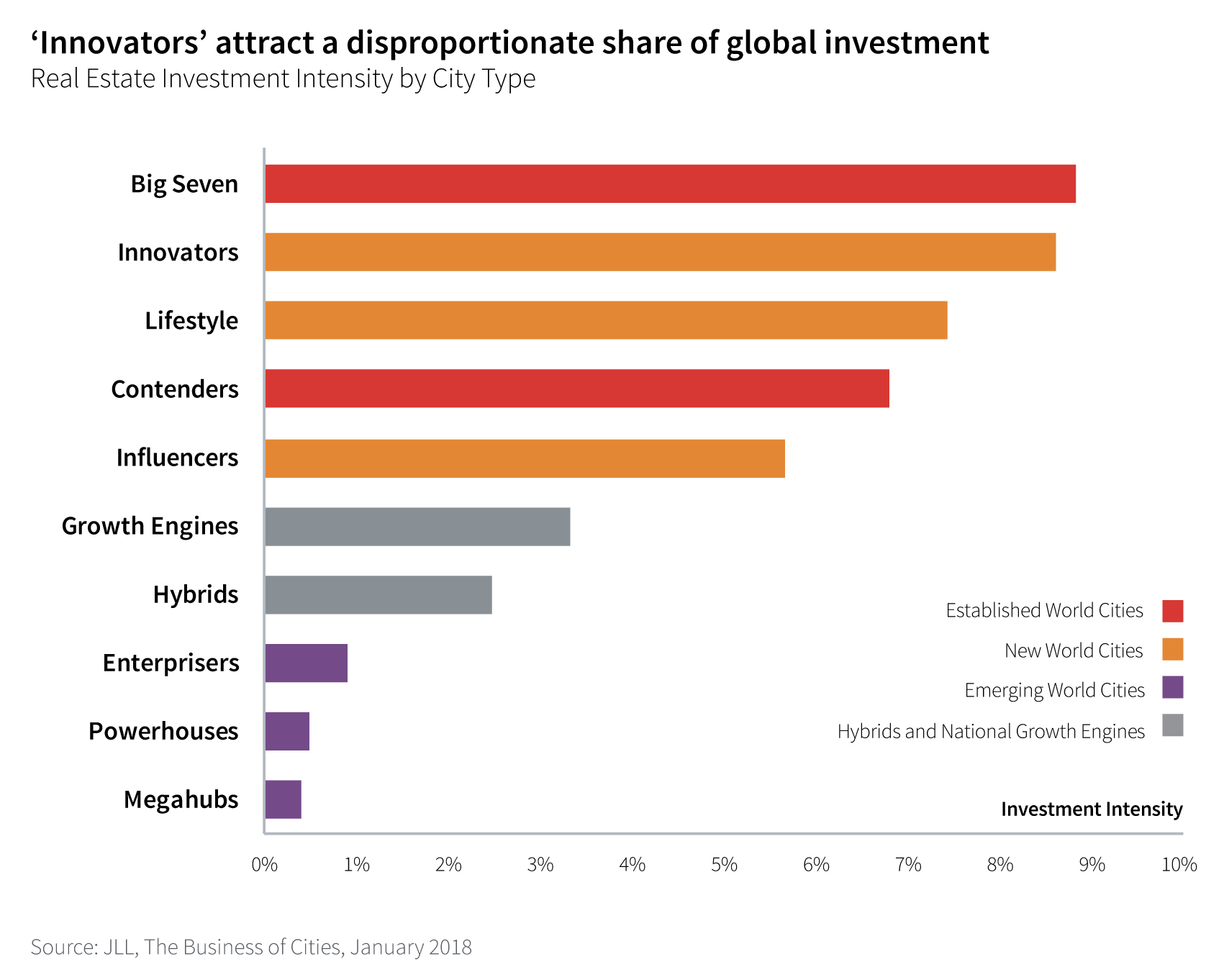 A new report from JLL and The Business of Cities, a London-based intelligence and strategy firm, encourages the global real estate market to rethink how it evaluates the world's cities' strengths and opportunities for investors, developers and corporate occupiers. The 25-page report, World Cities: Mapping the Pathways to Success, expands previous categories of Established World Cities, New World Cities and Emerging World Cities into 10 groups that each has common paths, challenges and imperatives.
"Increasingly, groups of cities share characteristics, aspirations and priorities in terms of the specialisms that they nurture the talent and businesses that they attract and the style and quantity of real estate required. With this in mind, it makes sense to assess a city's real estate market dynamics through the lens of these city groups, to complement more traditional approaches to evaluating the impact of city competiveness on real estate," Jeremy Kelly, director in Global Research as JLL, said in a prepared statement.
The 10 categories are: the Big Seven, Contenders, Innovators, Lifestyle Cities, Influencers, Megahubs, Enterprisers, Powerhouses, Hybrids and National Growth Engines.
"All global cities are on a journey within or between different types—their paths are guided by new infrastructure, changing sector mix, new national policies and even by the way they are governed and led. The shifting competitive horizons of different types of cities bring new opportunities and fresh challenges for the real estate industry," Tim Moonen, director of intelligence at The Business of Cities, said in a prepared statement.
A look at the new categories
The Big Seven are: London, New York, Paris, Hong Kong, Tokyo, Singapore and Seoul. They account for nearly one-quarter of all capital invested in commercial real estate globally. The report notes, "This elite group holds the depth, liquidity and unique soft power to remain the default destinations for cross-border investors and corporate."
Also in the Established World Cities group are the Contenders: Amsterdam, Toronto, Sydney, Madrid, Los Angeles, San Francisco, Chicago, Washington, D.C., Beijing and Shanghai. The report states they have collectively "registered the fastest growth of any city group in real estate investment over the past cycle," and have also seen the strongest rental office growth since 2000.
Innovators have world-class capabilities in science and technology and have seen investment volumes grow by 50 percent since 2006 with Berlin becoming a hotspot for cross-border investment. Other Innovators are: Munich, Stockholm, Milan, Dublin, Tel Aviv, Silicon Valley, Boston, Austin, Denver, Seattle and San Diego.
Lifestyle Cities join Innovators and Influencers in the New World Cities category. Lifestyle cities like Vancouver, which saw investment volumes rise by 168 percent in 2017, will continue to attract global investment capital. Other cities are: Hamburg, Copenhagen, Oslo, Helsinki, Auckland, Melbourne, Brisbane and Zurich. The report notes these cities are known for their "compact medium-density urban living and exceptional standard of public space and services." They have also seen some of the strongest office rental growth since 2000.
Influencers typically have some of the most stable real estate markets and are centers of global and regional influence, often hosting transnational institutions and trading functions. They are: Geneva, Frankfurt, Brussels, Barcelona, Vienna, Kyoto and Miami.
In the Emerging World Cities typology, JLL and The Business of Cities identify Megahubs, Enterprisers and Powerhouses. The report notes, "These larger cities in emerging national economies are experiencing high domestic consumer demand and business creation, while also establishing themselves as destinations for international trade and capital."
Megahubs include: Istanbul, Moscow, Sao Paulo, Mexico City, Mumbai, Delhi, Johannesburg, Jakarta, Manila and Bangkok. The report states Megahubs are large and have evolved substantially in the past decade, but also need to raise incomes and opportunities for their growing middle class and work on improving real estate transparency.
Enterprises include Shenzhen, Ho Chi Minh City, Taipei, Bangalore, Kuala Lumpur and Guangzhou and are home to some of the world's most dynamic real estate markets that are growing rapidly and increasingly becoming the sites of successful, home-grown multinational corporates.
Powerhouse cities are transitioning from low-value industrial economies to a higher position in the value chain and shifting towards more advanced industries. Cities include: Chengdu, Xi'an, Hangzhou, Suzhou, Nanjing, Wuhan, Tianjin and Chongqing. This group registered the strongest office rental growth of the Emerging World Cities.
Typologies
The report adds two typologies to the list—Hybrids and National Growth Engines. The Hybrids have elements of both Emerging World Cities and New World Cities and include: Doha, Bucharest, Budapest, Cape Town, Abu Dhabi, Prague, Warsaw, Santiago and Dubai. Most saw high levels of foreign investor activity during the last cycle but have also made good progress improving real estate transparency and in improving the quality of their commercial real estate.
National Growth Engines are found in stable, developed national economies and are among the top real estate investment destinations, generally by domestic investors. The report cites Dallas, Houston, Atlanta, Buenos Aires, Osaka and Nagoya as examples of larger cities in this group and Nashville, Salt Lake City and Columbus as smaller markets. They are often home to corporate occupiers, driving up demand for office space.