By Barbra Murray, Contributing Editor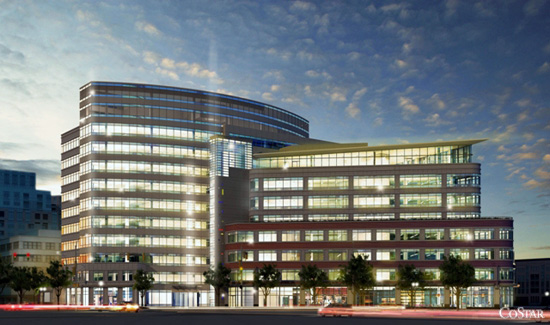 Construction has not yet commenced on the 200,000-square-foot office building at 3001 Washington Blvd. in Arlington, Va., but it's already near maximum occupancy, courtesy of a commitment from CNA. In a recent transaction with the building's developer, Penzance, the research and analysis organization pre-leased approximately 173,300 square feet at the suburban Washington, D.C., project.
"[The search for space] was a comprehensive, multi-jurisdictional broad-based examination, study and comparison," Matthew D. Siegel a senior vice president and principal broker with UGL Services, told Commercial Property Executive. "This was comprehensive."  UGL represented CNA in the transaction, while Jones Lang LaSalle stood in for the landlord.
CNA's future home will be a 10-story building featuring premier, LEED Silver-certified office accommodations within a block of a Metro station. The tower will be one of two office structures that will grace the site; the eight-story 3003 Washington will offer approximately 70,000 square feet of office condominium space. Together the buildings will provide a total of 28,000 square feet of ground-level retail offerings.
Upon completion of 3001 Washington in 2014, CNA will relocate from neighboring Alexandria, where it presently maintains its headquarters. "Their new space is approximately the same size but with improved efficiencies, it will be able to accommodate a greater workforce and a greater headcount in a more efficient environment," Siegel said. The research company will move 600 employees to its new digs.
CNA will leave a sizeable chunk of space behind when it leaves Alexandria in 2014. However, the Alexandria submarket, assuming it continues along its current path, may very well be in a position to absorb the square footage in a couple of years. The total vacancy rate for Class A office space dropped from 7 percent in the fourth quarter of 2010 to 4 percent in the fourth quarter of 2011, according to a JLL report.
And it appears Penzance should not have too much of a struggle leasing the remaining small amount of space at 3001 Washington. "The big picture is, the greater metropolitan Washington, DC, market is one of the most healthy, dynamic, vibrant, stable commercial real estate markets in the country, if not the world," Siegel noted. "That said, submarket to submarket, differences are quite significant. The Rosslyn-Ballston Corridor in which this transaction occurred reflects one of the more stable commercial office submarkets in a much more balanced environment for landlords and tenants."