By Anca Gagiuc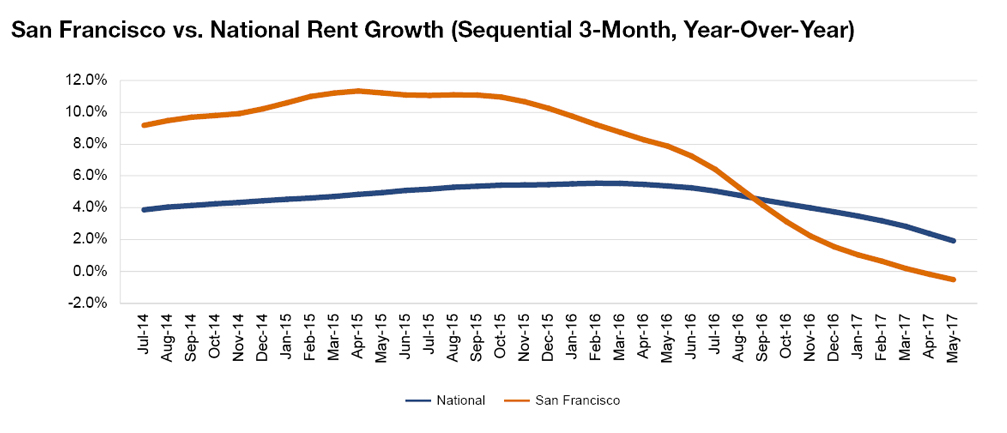 After several years of heightened growth, multifamily rents in San Francisco have tempered. Just one year after double-digit increases had bumped the average to $2,480—among the highest in the country—rents decreased by 0.5 percent year-over-year through May. Rents have reached a point where even highly paid workers can't afford the premium prices, despite the metro's consistent job expansion, robust tenant demand and high home prices. The lack of affordability is a prime suspect in the slowdown.
San Francisco's economy continues to attract investment and development. The University of California, Berkeley, anticipates that the 325,000-square-foot Berkeley Way West will be completed by December 2017, boosting the education sector. The Chinese investor behind the 42-acre waterfront Landing at Oyster Point in South San Francisco plans to add a residential component with roughly 1,200 units to prepare the area for the life sciences industry, which is expected to add 18,000 jobs in the next three years.
Transaction activity has slowed in 2017, with only $300 million in properties trading in the first five months of the year. This comes after last year's cycle high, when more than $3 billion in assets changed hands, reflecting investor caution amid escalating prices and macroeconomic uncertainty. With more than 15,000 units under construction, Yardi Matrix forecasts rents will remain flat in 2017.