By Mallory Bulman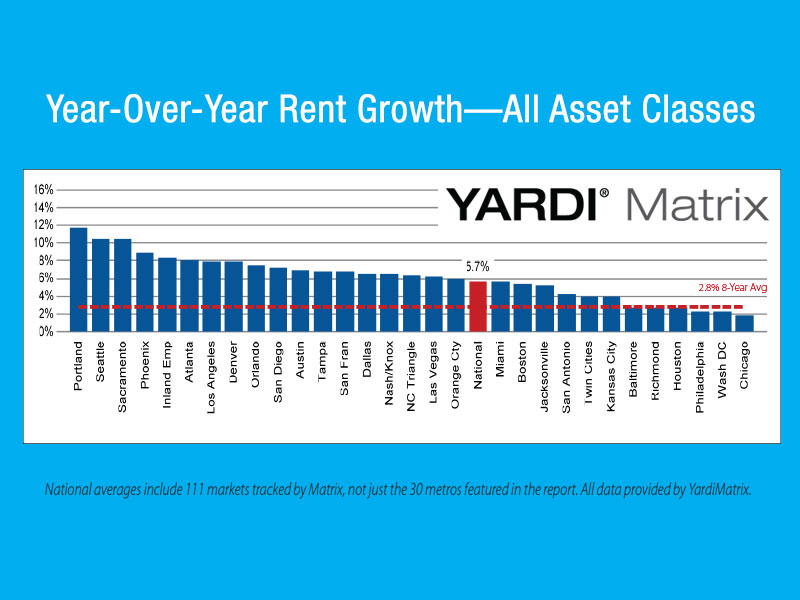 The end of the first quarter marked yet another solid run for multifamily, with a $6 and jump in rent in March. The average national rental price for March reached another all-time high of $1,181, and rents rose 0.5 percent month-over-month in February. Overall, rents increased 1.5 percent for the first quarter, according to the newly released Yardi Matrix Monthly report.
Despite this healthy growth, Yardi Matrix reports that rent appreciation is still continuing to taper off. National rents decreased 20 basis points from February 2015 and 70 from January 2015, even though they increased 5.7 percent in March on a year-over-year basis. While 5.7 percent growth is still robust, the numbers show that growth was even greater during the first quarter last year.
On a trailing 12-month basis, rents increased by 6.3 percent nationally, creating no change in the growth rate from February. At 6.5 percent, the Renter by Necessity segment continues to outpace the Lifestyle segment at 6 percent.
The usual suspects from the Western markets topped the ranking again, led by Portland with 14.1 percent, San Francisco with 11 percent, Sacramento, Calif. with 10.6 percent, Denver with 10.3 percent Seattle with 9.8 percent. According to the Yardi Matrix report, Seattle and Sacramento hold onto their spots at the top of the list because of short-term rent gains while Denver, San Francisco and Portland have started to show signs of moderation from unsustainable growth.
The report also shows that only three metros—Richmond, Va., Washington, D.C. and Baltimore—fell below the 2.8 percent long-term average due to weakness in the high-end Lifestyle rent sector.
The end of the first quarter also marks the revision of Yardi Matrix's forecast for rent growth by metro. The report states that national growth in 2016 is still expected to be 4.4 percent, but the figures by metro have changed. Of the Matrix Monthly top 30 metros, forecasts in 13 markets were downgraded, 11 were increased and six were kept the same.
The reasons for the revisions, according to the report, were, "On the down side, we anticipate that some markets will begin to soften as heavy new supply kicks in, interest rates creep up, single-family rentals begin to absorb some of the demand for multifamily, and lack of affordable supply puts a lid on how much renters can pay. On the positive side, we raised our forecast for job growth and apartment demand in some metros."
Markets with the biggest decline in forecast were Denver (now 6.3 percent, down from 11.2 percent), the North Carolina Triangle, (2 percent, down from 4.5), Austin (5.8 percent, down from 8) and Houston (3.4 percent, down from 4.7). Markets which increased were Los Angeles (now 7.1 percent, up from 4.2), San Francisco (3.3 percent, up from 1.5), the Inland Empire (6.8 percent, up from 5.4) and Richmond (1.4 percent, up from 0).
Yardi Matrix serves as a business development tool for brokers, sponsors, banks and equity sources that underwrite multifamily investment transactions.
To download the report, sign up on the Yardi Matrix website here.