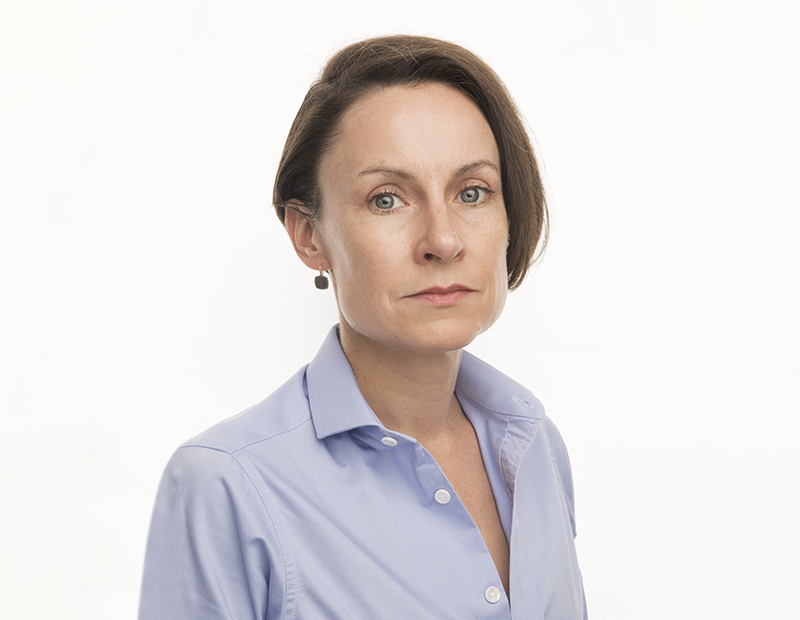 Schwab, UBS and E-Trade have successfully integrated traditional "high-touch" broker relationships with the convenience of 24/7 technology. Customers have the option of using only an online app or dealing directly with a broker or any combination that they prefer. Camille Renshaw has done the same for net lease real estate.
The CEO & co-founder of B+E, an online trading platform for buyers and sellers of net lease properties launched in 2017, sees parallels between buying net lease properties and trading stocks.
"If you're going to buy a Walgreens store, you need to know most of the same things as if you're buying Walgreens stock," explained Renshaw, who before B+E previously headed up commercial real estate for online real estate marketplace Ten-X.
B+E's intuitive end-to-end trading platform offers investors user-friendly dashboards, real-time predictive pricing and an AI-driven exchange—all designed to leverage an enormous data for decisionmaking.
Renshaw created B+E with co-founder Scott Scurich, who previously headed up the Net Lease division at Ten-X. They had both observed a void in the marketplace. It seemed that CRE investors did not actually know anyone at the companies whose sites they used to research net lease deals Investors were basically building a relationship with a technology platform. The other option available to net lease investors was the old school, one-on-one relationship with real estate brokers who bring trust and respect to the table but not technology. With offices in New York, Tampa, San Francisco and Chicago, B+E offers both.
When net lease buyers log on to benetlease.com, they see multiple photos of the asset plus offering memorandum, due diligence and property details like lease structure, ownership type, cap rate and net operating income, investment highlights and comparables. According to Renshaw, you can go as far into the transaction, in terms of end-to-end trading, as you want.
"Most folks do tend to pause around the time that they need, or want, to engage a lawyer to draft contracts and such," she added.
But such features as the ability to execute the trade on the platform, access to all the due diligence immediately and the capacity to delve into the details about the tenancy and the property definitely speed up the process.
B+E is open to strategic partnerships that can leverage the platform and offer additional features to investors. Recently B+E announced a joint venture with Inland and RCX Capital Group to better serve a wide spectrum of 1031 exchange needs. RCX will help 1031 exchangers analyze beneficial interests in Delaware Statutory Trusts offered by Inland and other sponsors, while the B+E platform will help 1031 exchangers facilitate "fee simple" transactions.
From 1031 exchangers with pressing IRS-mandated timelines to institutional sellers who need to find an off-the-radar buyer, B+E enables virtually anyone to confidently engage in the net lease real estate market.
"I don't know of anybody who's even trying to build something like this at this point," Renshaw said.
Most of the firms that do net lease, she noted, are either too small—they don't have the financial resources to build what B+E has built—or they're within very large national or international brokerage firms that are not motivated to build something for just a small segment of their business.
Wearing Multiple Hats
Renshaw is a serial entrepreneur whose projects have been enriched by a wide variety of interests. She has multiple degrees including a Master of Fine Arts in Writing from Bennington College and a Bachelor of Arts in Computer Science/English/Political Science from University of Tennessee Knoxville where she wrote code for a Neural Networks project in the Molecular Spectroscopy division of the Physics Department for four years.
She has also completed graduate real estate coursework at New York University. In January 2018, she became an Executive in Residence at NYU Stern School of Business, which brings Stern's undergraduate and MBA Real Estate Clubs together with real estate leaders for industry-related dialogues. And she holds real estate broker licenses in New York, Florida and Connecticut.
"Entrepreneurship, real estate, technology—all three are incredibly integrated for me," said Renshaw, who has been coding since the seventh grade. "Back then it was still called programming."
Renshaw is currently a board director of multiple fintech companies, including Renshaw Co., a venture capital company for real estate and fintech, and Space in the Raw, an online marketplace for short-term space. She also serves as advisor to DreamIt's UrbanTech Accelerator.
"Camille is unique in the industry," said Darkknight Ventures CEO Jack M. Cohen, who has known Renshaw since they worked together at Colliers. "Camille is not only an extraordinary investment sales broker, she is also a very accomplished and highly experienced entrepreneur. She knows how to stand an enterprise up, recruit, build a culture and recycle the capital that formed the business … I simply know of no one with that combination of skills running a CRE business today. It is energizing, inspiring and exciting to be in her orbit."

Renshaw entered commercial real estate in 2002 when she founded Dyzco Technologies Inc., a portal for online education courses that was acquired in 2004 by American Collegiate Financial Services Inc. From 2007 to 2011, she was director of the U.S. Capital Markets division of Colliers International, where she was a Top 40 Worldwide Producer.
Over her career, Renshaw has closed over $25 billion in transactions, including $5 billion in 2017 alone. In 2011, she started the New York office of net lease brokerage firm Stan Johnson Co. In that role, she led the sales team as its top producer for five years. In 2016, she joined Ten-X, a Google Capital company that includes products like auction.com.
"Reporting to the CEO of Google Capital David Lawee was a life-changing experience," says Renshaw, who credits Lawee for cultivating a business environment where you're constantly thinking: Am I asking the right question?
That inquisitive mindset led to the formation of the B+E technology. Its co-founders questioned how things were being done in the staid net lease sector and looked outside to the stock and bond markets and other segments to learn new tricks.
Culture Trumps Strategy
At Ten-X, Renshaw headed up the CRE sales division, overseeing $5 billion in transactions during her tenure. Investor clients included Blackstone, STORE Capital, Garrison, Colony, WP Carey, VEREIT, Torchlight, Ryan Companies. Brokers included Eastdill, CBRE, JLL, Cushman & Wakefield, SJC, Colliers, HFF.
"I have had the pleasure of knowing Camille for nearly a decade," says Mary Fedewa, chief operating officer and director of STORE Capital. "Camille possesses an expansive knowledge of the market. She has persevered despite an ever-changing business landscape throughout her distinguished career. Her interpersonal skills, intelligence and energy have led to contributions in our industry that have been dynamic and innovative."
Renshaw has been competitive her entire life. "If you were to interview my Mom, she would probably tell you that I was a very passionate seller of Girl Scout cookies. And that's true," she said. In the fifth grade she was selling holiday cards to neighbors through a catalog that offered three tiers of pricing and allowed her to make a profit. "It couldn't have been that much money, but I was so motivated by it and I really enjoyed the strategy. I enjoyed winning." As a child, she wanted to be in sales like her dad who was a top salesman for a company selling compressors and pumps.
Currently, Renshaw oversees all aspects of B+E's effort to transform the net lease industry and is fortunate to be surrounded by many long-time colleagues, including B+E co-founder Scurich. For the core team at B+E, this is actually their third venture together. "We had been at the Stan Johnson Company selling net lease real estate as traditional brokers. Then we went to Ten-X and from there we all left and were able to start B+E," Renshaw said. Some relationships, like that with the head of the B+E Florida office, go back even further to Renshaw's Colliers employment.
"I frequently say that culture is more important than strategy," said Renshaw, who describes her firm as customer-centric. "Strategy is also incredibly important, but it's much easier to fix. If you get your culture wrong, it's very difficult and very costly to fix."
You'll find more on this topic in the CPE-MHN Guide to 2019.