by Gail Kalinoski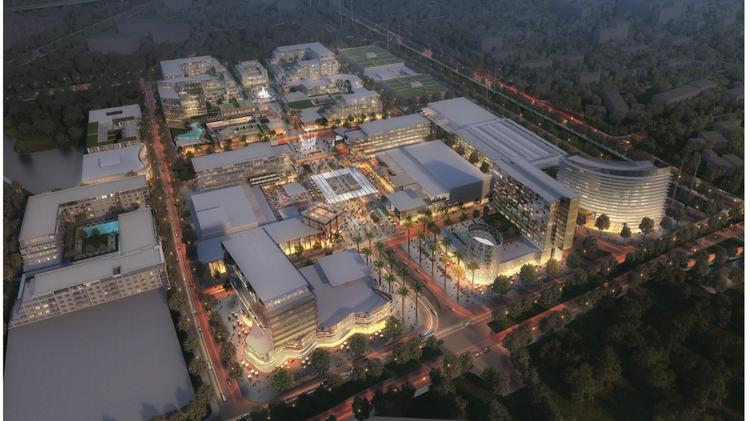 San Francisco—A $6.5 billion, 9.7 million-square-foot mixed-use development proposed by Related Cos.—the largest private project in California's Silicon Valley history—has received unanimous approval from the Santa Clara City Council after three years of planning.
The megaproject is expected to earn LEED certification and be constructed in multiple phases spaced out over 30 years, with some of the later phases—including office campuses—built to market demands. The overall project calls for as much as 5.7 million square feet of office space, 1.1 million square feet of retail, 700 hotel rooms and up to 1,360 residential units. Plans also call for about 250,000 square feet of food and beverage offerings, 190,000 square feet of entertainment space and a 35-acre park. The 240-acre site, now the home of a city-owned golf course and BMX track, is adjacent to Levi's Stadium, the home of the San Francisco 49ers. The Santa Clara Convention Center and Great America amusement park are also nearby.
Related, which is also one of the developers of the $20 billion Hudson Yards mixed-use project in Manhattan on the East Coast, would lease the land from the city of Santa Clara. Upon full build-out, Related said it would pay annual ground lease rent of $12 million to the city. Taxes will also range from about $42 million to $70 million, according to Related estimates. Related, a privately owned real estate company, began the process in April 2013, when it signed an exclusive negotiating agreement with the city, as previously covered by Commercial Property Executive.
Mayor Lisa Gillmor told the Silicon Valley Business Journal that the project would be a win-win for the city.
"Not only will we get the development that services our community," she told the news site. "But we'll also reap the financial benefits of having a cash flow into our general fund for generations to come."
In addition to generating tax money and rent, the development is expected to create approximately 25,000 new jobs for area residents, particularly in the restaurant, retail and hotel fields.
Steve Eimer, the Related executive in charge of the project, told the business journal the Related team in both California and New York was ready to get the development going. Phase One will have at least 600,000 square feet of office space, a 300-key hotel and roughly 50,000 square feet of retail. Construction would likely occur between 2017 and 2022 for this phase. The second phase would focus on creating the City Center for the project and add at least 500,000 square feet of retail, more office space and possibly some rental apartments above the shops to build a "live, work, play" environment.
But there may be challenges to the project because there was opposition to the development, some of which will be built over a closed city landfill. For example, the Silicon Valley Business Journal noted that the California Water Resources Control Board has raised questions about drinking water at the site and others have questioned whether housing should be built on areas where the landfill was located. Related has said it would mitigate any effects of the former landfill, including building a concrete platform over a portion of it.
Officials in neighboring San Jose have complained that their city may be overburdened with providing housing and services to those working at the development. Even Santa Clara's own planning commission recommended against approval, saying there hadn't been enough time to review all the planning and environmental documents.
The City Council, however, is eager to move forward with the project, which it says will provide a much-needed city center for Santa Clara. Most of the city's downtown was demolished during the 1960s when planners started moving most businesses and shops to regional malls outside the city center.