By Gail Kalinoski, Contributing Editor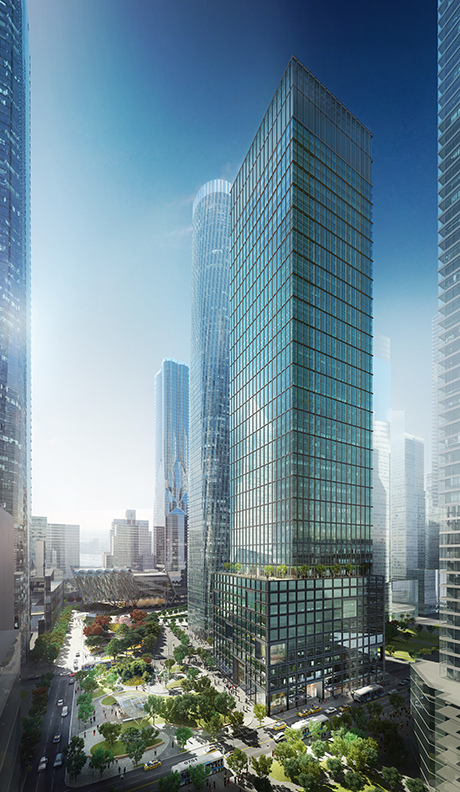 Related Cos. and Oxford Properties continue planning for the massive $15 billion Hudson Yards development on Manhattan's West Side by unveiling the design of Fifty Five Hudson Yards, a 51-story, 1.3 million-square-foot office building.
The building, to be located on the northeast corner of 11th Avenue and W. 33rd St., was designed as a joint venture by two leading architects – A. Eugene Kohn of Kohn Pedersen Fox and Pritzker Prize-winning Kevin Roche of Kevin Roche John Dinkeloo and Associates L.L.C. Kohn Pedersen Fox served as the Design Architect. It will be at the intersection of Hudson Yards, the High Line and Hudson Park & Boulevard and across from the new No. 7 subway extension.
Construction of the anticipated LEED Gold 780-foot-high building is expected to start in January 2015 and be ready for occupancy by late 2017.  The developers said in a release that the building's interior was "conceived after extensive study of the space needs of professional service, financial, creative and technology firms." Some planning details they expect will appeal to creative and tech tenants are tower floors free of interior columns that allow for flexible use of space, 10-foot-high ceilings and floor-to-ceiling glass that will bring in more light.
"Today's business leaders are now more than ever focused on the recruitment and retention of talent and we believe a corporate address at Fifty Five Hudson Yards offers a distinct competitive advantage with a compelling experience inside and outside of the office," Jay Cross, president of Hudson Yards, said in the news release.
Cross had previously told Commercial Property Executive they were planning 55 Hudson Yards to have smaller floor plates than the office towers at 10 and 30 Hudson Yards. The building, along with 50 Hudson Yards, will be located on parcels Related acquired from Extell. Preliminary design plans call for 50 Hudson Yards to be 1,068 feet tall with 62 stories and 2.3 million square feet of space. Targeted tenants may be large financial firms, according to various reports.
"One of the greatest benefits of developing a neighborhood from scratch is the ability to accommodate a variety of different commercial office tenants and build-to-suit," Cross previously told CPE.
In unveiling plans for the building they are now calling Fifty Five Hudson Yards, the developers said the exterior design was inspired by the cast iron facades featured in the SoHo neighborhood, the best of early modernism and the location of the building by the new Hudson Park. One feature will be an outdoor terrace overlooking the park to be built on the 10th floor. It will also have views of the Hudson Yards Public Square and the High Line. The first 10 floors of the building will have floors of 44,000 square feet each, topped by a 41-story tower with floors of 28,000 square feet each.
Details about Fifty Five Hudson Yards come about three months after construction started on the $700 million, 10-acre Eastern Platform that will serve as foundation for much of the 28-acre Hudson Yards development. Once built out, the largest private real estate development in the United States will have more than 17 million square feet of retail, residential and office space, a hotel, a new public school, public parks and cultural offerings. Ground was broken in December 2012 on the first office tower, 10 Hudson Yards, a 52-story, 1.8 million-square-foot building. Scheduled to open in 2015, the tower's main tenants are Coach Inc., L'Oreal USA, SAP and Fairway Market, which is taking the ground floor retail space. Time Warner Inc. will be moving its headquarters and about 5,000 employees into about 1 million square feet at 30 Hudson Yards, an 80-story, 2.6 million-square-foot office skyscraper due for completion in 2018.
Tenants have not yet been announced for Fifty Five Hudson Yards, but Cross told The Wall Street Journal they wanted to have 30 percent to 40 percent of the building pre-leased before beginning construction.