Related Cos.' Hudson Yards Breaks Ground on 26-Acre Manhattan Site
After years in the planning stages, construction of New York City's largest private development since Rockefeller Center finally got underway Tuesday as city officials joined leaders of Related Cos. and Oxford Properties Group at the groundbreaking of the 26-acre, mixed-use Hudson Yards project.
By Gail Kalinoski, Contributing Editor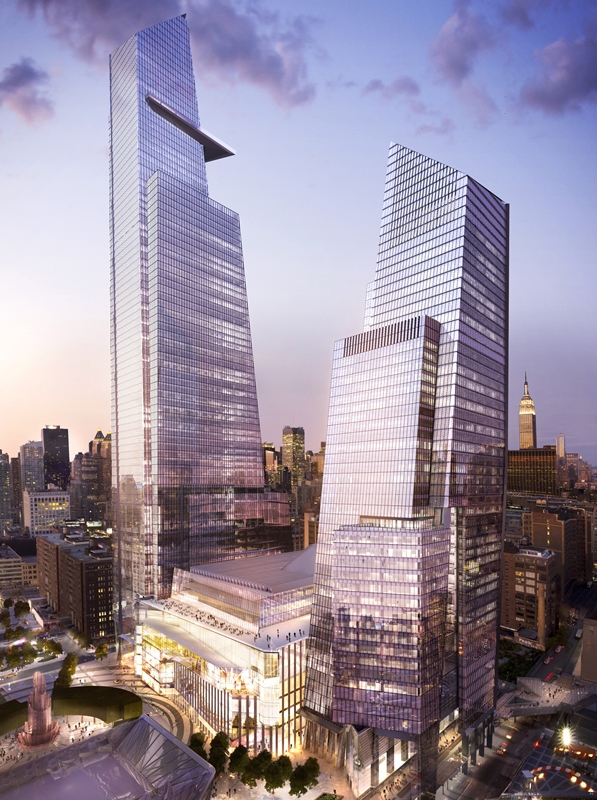 After years in the planning stages, construction of New York City's largest private development since Rockefeller Center finally got under way Tuesday as city officials joined leaders of Related Companies and Oxford Properties Group at the groundbreaking of the 26-acre, mixed-use Hudson Yards project.
"Developing Manhattan's final frontier is the next major step in our city's ongoing revival," said Mayor Michael Bloomberg. "The Hudson Yards project – whose construction will create 23,000 jobs alone and whose existence will support thousands more – is a testament to our city's economic strength. Related and Oxford's massive and bold investment in this project and the commitments from those tenants demonstrate the confidence in the city's future and the future of the West side."
Primarily home to the old Hudson rail storage yards, the development site stretches between 10th and 12th avenues and from West 30th and 33rd streets. When completed over the next 12 years, Hudson Yards, estimated to cost between $12 billion and $15 billion, will consist of more than 13 million square feet of retail, residential and office space. About 6 million square feet of that will be commercial office space. The new city neighborhood will also have approximately 5,000 residences, a new public school and a luxury hotel. Eventually more than 40,000 people will live or work in Hudson Yards.
Monday's groundbreaking was for the South Tower, a 47-story building at 30th Street and 10th Avenue that will be the headquarters for Coach Inc., which is taking nearly 740,000 square feet in the tower. The South Tower, expected to achieve LEED Gold status, will have a soaring atrium that will be the visual anchor of the High Line, the elevated city park that runs along the former rail line on the West side.
The South and North Office Towers are both designed by Kohn Pedersen Fox Associates, which is also the master planner for the entire project. The South tower will have 1.7 million square feet of space, including retail, while the North tower will be 70 stories tall and have 2.4 million square feet office space. Construction of the South Tower is expected to be completed in 2015. The North Tower, which will be at the southwest corner of 10th Avenue and 33rd Street, will be built between 2014 and 2016. The two towers are to be linked by a major retail complex which will be called The Shops & Restaurants at Hudson Yards. The five-level, 750,000-square-foot facility is being designed by Elkus Manfredi Architects. It will be situated on a new public plaza and will feature premier shops, theaters, a level 4 Dining Court called Kitchens at Hudson Yards and bars and restaurants, similar to The Shops at Columbus Circle, which Related also developed. A non-profit cultural facility, being designed by Diller Scofidio and Renfro and David Rockwell, will be build along the High Line at 30th Street.
"Hudson Yards will be the new heart of New York City, with state-of-the-art commercial space, vibrant retail and restaurants, a unique cultural center, over a dozen acres of public space with iconic plazas and important public art, a school, residences and affordable housing," said Stephen M. Ross, Related chairman and founder.
Perhaps with a nod to his company's long road to developing the property,  Ross noted, "The history of our city has been defined by a series of moments where dreamers dug deep into their imagination, challenged the realm of possibility and brought the seemingly unbelievable to life."
"Upon completion, Hudson Yards will dramatically alter the skyline and will provide significant benefit to the citizens of New York City," added Blake Hutcheson, president and CEO of Oxford Properties. "Everyone involved in the planning and development of Hudson Yards, and those who choose to work, shop, live and play here, are all a part of something truly remarkable."
Oxford Properties, the real estate investment and development arm of the OMERS Worldwide group of companies, partnered with Related in 2010 on the project after Goldman Sachs pulled out. In May 2010, Related and Oxford signed a contract with the Metropolitan Transportation Authority for development rights of the rail yards. The 99-year lease, with purchase options, also calls for the partnership to pay for $1 billion in MTA capital projects.
One of the keys to developing the West Side property, which at one time had been considered for a New York Jets football stadium, was the extension of the 7 subway line to 34th Street and 11th Avenue from its current terminus at Grand Central Terminal. The extension is expected to be completed in 2014. The site is a short walk to Penn Station and close to the West Side Highway, Lincoln Tunnel and Hudson River ferry launches.
Like us on facebook: https://www.facebook.com/pages/Commercial-Property-Executive/258033884191