median U.S. equity REIT premium to NAV by sector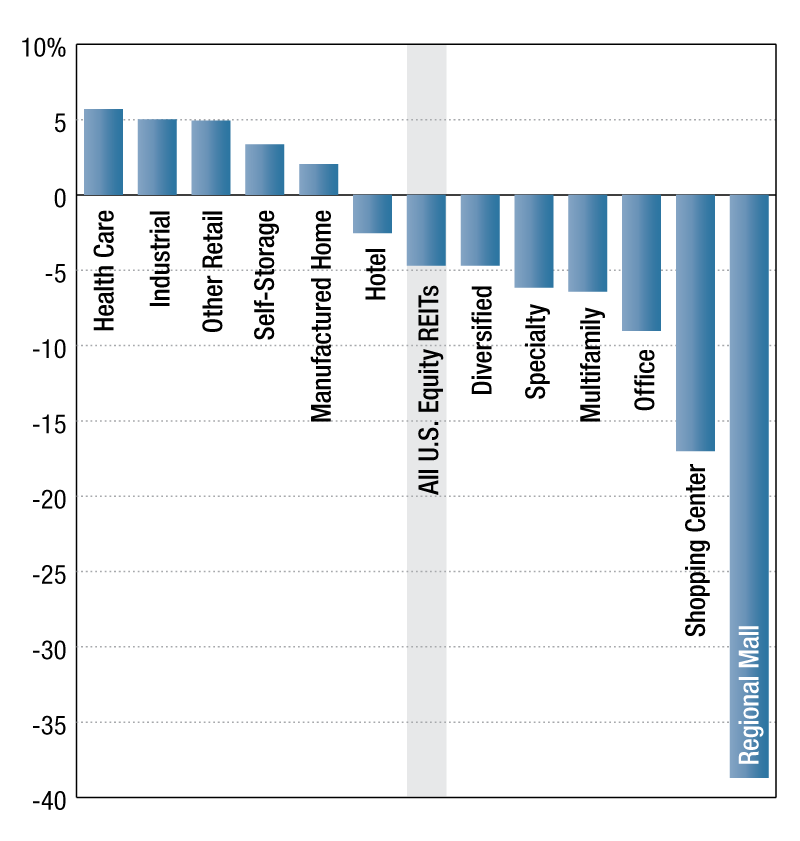 As of September 29, publicly-traded U.S. Equity REITs traded at a median discount to consensus net asset value of 4.7 percent.
The Healthcare REIT sector traded at the largest median premium to NAV, at 5.7 percent. The Industrial REIT and the other Retail REIT sectors followed next trading at median premiums to NAV of 5 percent and 4.9 percent, respectively.
On the other hand, trading at the greatest median discount to NAV at 38.7 percent was the Regional Mall REIT sector. The Shopping Center REIT sector also had a notable 17 percent median discount to NAV as of the last trading day of September.
At the company level, Healthcare REIT Community Healthcare Trust Inc. traded at the greatest premium to NAV, at 38. percent. Right behind were fellow Healthcare REIT CareTrust REIT Inc. and Diversified REIT PS Business Parks Inc., which traded at premiums of 34.5 percent and 29.4 percent, respectively.
CBL & Associates Properties Inc. traded at the largest discount of all U.S. REITs, at 52.2 percent. Other Regional Mall REITs trading at large discounts included Pennsylvania Real Estate Investment Trust and Taubman Centers, Inc. at 47.4 percent and 42.1 percent, respectively.
Khamile Armhynn Sabas is an analyst in the Real Estate Product Operations department of S&P Global Market Intelligence.