By Barbra Murray, Contributing Editor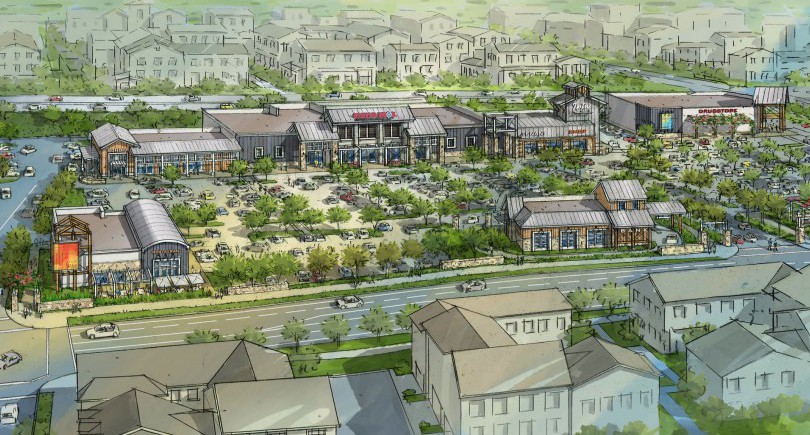 Tustin, Calif.—Orange County's new Tustin Legacy master-planned community continues to fill out and Regency Centers Corp. is among the latest developers to contribute to the 1,600-acre property's growth. The grocery-anchored shopping center owner recently completed the acquisition of land for the development of The Village at Tustin Legacy, which will feature a $40 million, 112,000-square-foot retail center.
Tustin Legacy is taking shape on the site of the former Marine Corps Air Station, which was designated for a new, non-military future as part of the U.S. Department of Defense's Base Realignment and Closure process in 1991 and 1993. Base operations ceased in 1999 and the bulk of the acreage was ultimately conveyed to the City of Tustin. Through a Disposition and Development Agreement, Regency acquired an approximately 21-acre parcel from the City for The Village project.
Sited at the core of the master-planned community, the shopping center will showcase a 44,000-square-foot Stater Bros. market as its anchor, but the advance lineup doesn't stop there. CVS has also committed, signing on for 14,500 square feet, Great Foundations Montessori has inked a deal for 8,000 square feet, Bank of America took 4,000 square feet, and the list goes on. Already, Regency has reeled in retailers accounting for 80 percent of the project's square footage. "The Village at Tustin Legacy is going to be another great example of our commitment to build attractive neighborhood centers with unique tenant line-ups in affluent infill markets," John Mehigan, SVP & senior market officer for Regency Centers Corp., said in a prepared statement.
The Village retail center will count as its immediate neighbor a 130,000-square-foot healthcare complex, which will be erected on a subdivided portion of the land Regency just acquired. According to city records, Regency has inked a purchase and sale deal with Hoag Memorial Hospital Presbyterian for its development of the 60,000-square-foot Hoag Health Center Tustin medical office building on the parcel.
Tustin Legacy saw its first developments—the 565 residences of Tustin Field I and II and the 1 million-square-foot District at Tustin Legacy lifestyle center—erected in 2006 and 2007, respectively, and the master-planned community has been growing ever since, with a project sprouting up here and a project popping up there. Today the community features more than 3,000 apartments, townhomes and single-family residences and is home to educational facilities, including the 53,000 square-foot Orange County Sheriff's Regional Training Academy and the South Orange County Community College District's 68-acre Advanced Technology & Education Park. And there's much more to come at Tustin Legacy. Projects in the works include Lincoln Property Co.'s 870,000-square-foot Flight at Tustin Legacy creative office destination, and the Tustin Unified School District's $85 million middle and high school properties.
Regency will break ground on The Village later this month.
Courtesy rendering