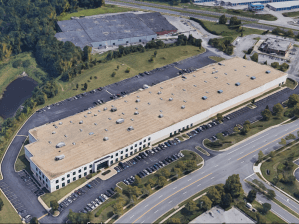 Colliers International has arranged a new 64,000-square-foot lease on behalf of REEF, a proptech company, at the Gorman Center at Savage Mill in Laurel, Md. REEF will occupy the space at the approximately 141,000-square-foot flex industrial facility, having inked a long-term lease with landlord Lincoln Property Co.
Carrying the address of 8880 Gorman Road, Gorman Center offers a prime location equidistant between Washington, D.C., and Baltimore. LPC has owned the property, developed in 2000, since acquiring it from an entity of TIAA-CREF for $13.9 million in 2017.
---
READ ALSO: Micro-Fulfillment Centers Present Big Opportunities
---
REEF—which is in the business of transforming urban spaces into neighborhood hubs that connect people to locally curated goods, services and experiences—plans to utilize its new space at the Gorman Center for applications that could range from delivery restaurants to health-care, farming and mobility.
The little kitchen that could
Neighborhood services center on proximity, and REEF's platform is designed to enable real estate—namely, the parking lots and garages that comprise 50 to 60 percent of our nation's downtown property—to be tailored to address an array of neighborhood needs, ranging from local kitchens to last-block delivery for businesses to open-air marketplaces.
Currently, the company has a distributed real estate network of roughly 4,500 locations in North America alone, spanning 50 cities. However, the number of sites is expanding rapidly. Recent transactions backing REEF's operations include a 47,300-square-foot lease at Bridge Point 595, a premier distribution facility in Davie, Fla., in August. The company also signed on for 60,100 square feet at 4710 W Ledbetter Drive in Dallas in the second quarter.
Beyond its ghost-kitchen network, REEF is paving the way for the creation of an owned real estate portfolio. In November 2020, along with the announcement that it had raised $700 million in growth equity funding from a consortium that included SoftBank Vison Fund, Oaktree Capital Management LP and others, REEF revealed that the company had separately joined forced with Oaktree to form Neighborhood Property Group, a $300 million joint infrastructure vehicle to acquire strategic real estate assets.