By Barbra Murray, Contributing Editor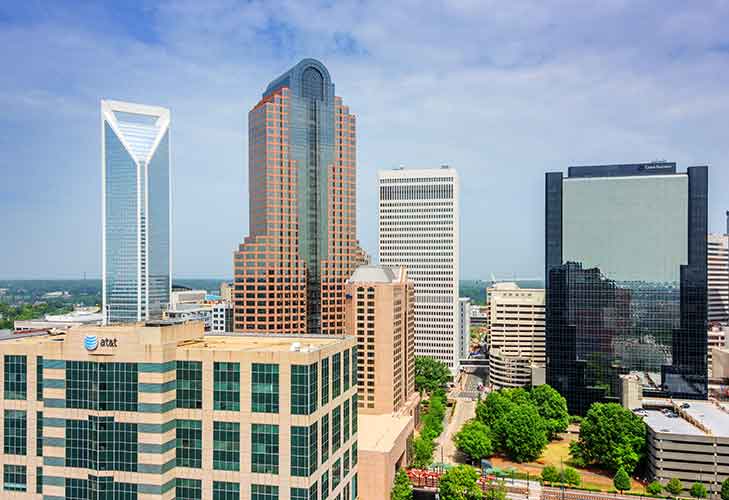 Charlotte, N.C.—Something so big just happened in Charlotte that a new record has been set not just for the city, but for the State of North Carolina. Starwood Capital and Vision Properties recently sold One Wells Fargo Center, a 1 million-square-foot trophy office property carrying the address of 301 S. College St., for $284 million, the highest price tag ever fetched for an office building in the Tar Heel State.
The new owner of the downtown property is 301 South College Street LLC, which, according to an article in the Charlotte Observer, is an entity tied to Dennis Troesh, a Nevada businessman. The deal included the assumption of an existing loan, as noted in an announcement by Moody's Investors Service.
Commercial real estate services firm CBRE orchestrated the transaction on behalf of the sellers, which had owned One Wells Fargo since purchasing the asset from Childress Klein in 2013. And what a difference three years can make; Starwood and Vision paid $245 million for the 42-story property.
Developed in 1988 and most recently renovated in 2012, the Class AA One Wells Fargo shares a 2-acre site with the Charlotte Hilton Center City Hotel, and holds the distinction of being one of just two downtown buildings providing direct access to the LYNX light rail system. And then there's the tenant roster, which is anchored by the East Coast headquarters of Wells Fargo Bank under an approximately 687,000-square-foot lease scheduled to expire in 2021.
Top quality, top tenancy and perhaps most notable, top location.
"This transaction demonstrates the strength in the Charlotte economy and the confidence investors have in its continued growth", Will Yowell, vice chairman with CBRE, said in a prepared statement. "One Wells Fargo Center represents a trophy investment that is ideally positioned in the resilient and historically well-occupied Charlotte central business district." The property was approximately 98 percent leased when it traded in 2013, and it's currently 98 percent leased.
Image courtesy of Childress Klein