May 23, 2011
By Allison Landa, News Editor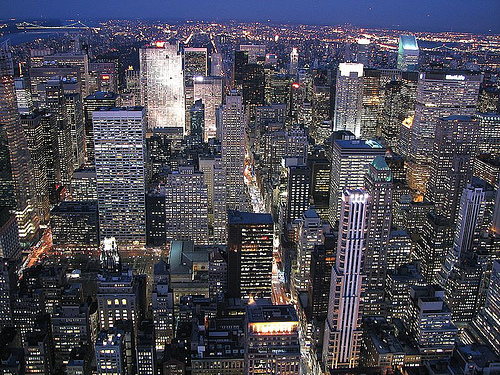 LAS VEGAS – The U.S. economy has hit its nadir and is now on the way up. That's according to Marcus & Millichap's 2011 national retail report, which was revealed at the International Council of Shopping Centers' global retail real estate convention, also known as RECon.
"The first thing on my mind is what a difference a year makes, or even better, what a difference two years makes," Marcus & Millichap president & CEO John Kerin told a packed audience. "We haven't turned completely, but we're starting to see positive aspects."
Thoses include retail sales that in mid-2010 turned positive and currently exceed the peak of spending in 2007, Marcus & Millichap managing director of research and advisory services Hessam Nadji said.
"So the spending patterns of the U.S. have not only come back," he said, "they are above where they were before the downturn."
Nadji waxed cautiously positive, characterizing the recovery as broad-based and noting that the last few months have seen the addition of more than half a million professional business jobs to the U.S. workforce. But that said, he warned, sentiment is fragile – as companies hear bad news, they are prepared to revert back to a wary stance.
Among the major findings of the report: Approximately 2 million jobs will be created this year, led by business and professional services, healthcare, education, a cyclical rebound in technology and exports, with larger multi-national firms flourishing while local businesses continue to struggle.
In terms of retail itself, Washington, D.C. kept the No. 1 spot in the index, while New York City moved ahead two places to No. 2. San Diego, Los Angeles and Orange County rounded out the top five. Other major regions include Austin, Boston and Seattle.
The hardest-hit regions by the housing downturn – Tampa, Orlando, West Palm Beach, Fort Lauderdale, Phoenix and Las Vegas – gained ground but still remained near the bottom of the retail index.
Retail delinquencies are still elevated, with the highest levels seen amongst CMBS loans at nearly 8.6 percent. However, the report asserts that distressed loans are outpaced by workout volume, with the former at its lowest point in two years.
Sector executives echoed Nadji's cautious optimism, asserting that they expect to see growth this year.
"Generally, things are holding up pretty well," Federal Realty Trust CIO Jeffrey Berkes said. "We were able to, fortunately, increase and align our portfolio. …And I think we'll do better in 2011. It wasn't easy, but probably the best analogy I've heard with respect to what was going on in the leasing environment and occupancies and so forth back in 2008 and 2009 was that we had a bucket with a pretty big hole in the bottom. And that hole may have been the entire financial system crumbling down to more mundane things, and today there's still a hole in the bottom of the bucket, but it's much smaller. … There's certainly less water leaking out today."
Robert Roscoe, a divisional vice president of asset development for Walgreen Co., characterized sales performance as strong, with an increase of nearly five percent in the last month. With transactions up, basket size up and the number of trips up, he said, things are looking good across the board.
But the rising tide has yet to lift all boats.
"The recovery is not equal across the sector," Safeway Inc. senior vice president of real estate and engineering Donald Wright said. "There are some haves and some have-nots. I think you'll see the haves continue to improve and strengthen."
Nadji said he sees the state of the economy as a "tug of war" between a true recovery and the headwinds that continue to pervade headlines.
"Housing is headed for a double dip," he said. "And there is really no end in sight when we will see the end of inventory in foreclosure."
That said, he added, retail sales per square foot as well as online sales are looking more competitive than they have in years.
"Right now," he said, "we basically declare that we are at bottom."