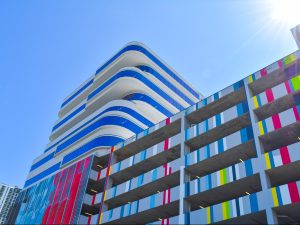 One year after topping off, The Gateway at Wynwood, a 13-story Miami office tower, has received its temporary certificate of occupancy. Developer R&B Realty Group plans to open the property to tenants early next year.
The developer broke ground on the project in early 2020 after receiving $76 million in construction financing from 3650 REIT, a balance-sheet lender. Berkadia arranged the note.
The location offers 195,000 square feet of office space with floorplates ranging between 24,700 and 28,900 square feet. The property also includes 25,900 square feet of ground-floor retail, an 8,500-square-foot private rooftop deck and five floors of covered parking.
Colliers International is overseeing office leasing, while CBRE is in charge of retail space tenancy. Approximately 12,100 square feet of office space at the location has already been leased to Veru Inc. The biotech company signed an eight-year agreement in July and plans to move into the tower in the first quarter of 2022.
Located at 2916 N. Miami Ave., the building sits at the edge of the Wynwood and Edgewater districts. Kobi Karp Architecture designed the project, adding a wrap-around mural installation to reflect the location's proximity to Miami's primary arts and design district.
The building is 2 miles north of downtown Miami and has easy access to a variety of shopping and dining options. Interstates 95 and 195 are both close to the property, while Miami International Airport is 6 miles to the west.
Growing rents amid development upswing
The Miami office market is continuing to perform, a recent CommercialEdge report shows. In September, year-over-year rent growth reached 5.8 percent, with asking prices averaging $43 per square foot. Vacancy remained 130 basis points lower than the 14.9 percent national average, despite a 100-basis-point increase in the market during the same period.
Even as office construction has slowed at the national level, Miami continues to attract developers: Nearly half a million square feet of office projects have broken ground year-to-date through September, with a total of 2.9 million square feet under construction market wide. The active pipeline represents 4.3 percent of stock, far greater than the U.S. figure of 2.4 percent.