By Keith Loria, Contributing Editor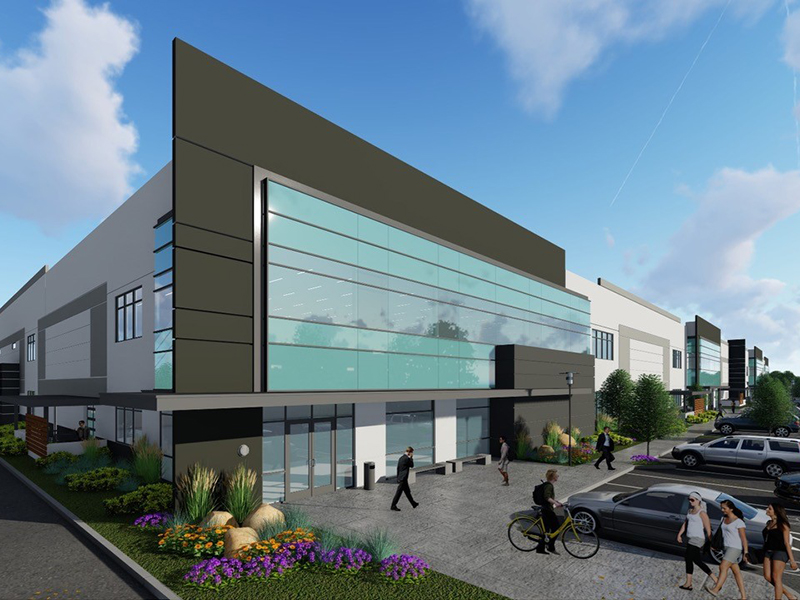 RAF Pacifica Group is developing three ground-up creative industrial projects in North County San Diego, totaling more than 500,000 square feet and approximately $110 million. The company recently broke ground on all three and delivery is expected in 2018.
"Very little industrial product has been built during the last cycle in this market. San Diego has lagged at least 12 to 18 months behind other markets, and is now at a point in its recovery cycle where it is poised for new development, making now the right time to build spec-industrial," Adam Robinson, RAF Pacifica Group's founder and principal, told Commercial Property Executive. "The extremely limited supply, coupled with the pent-up demand for quality industrial space, presents a strong opportunity to fill a tremendous void in the current market by delivering the highest quality, most functional industrial buildings to date in San Diego."
The Creative Trio
One of the developments is vec•tor, a 171,098-square-foot, two-story industrial/R&D facility that is being designed to accommodate one to four industrial or research tenants. The $29 million project will feature 30-foot clear height ceilings, grade-level and dock-high loading doors, and a glass-centric design to ensure natural lighting. It is located in the Carlsbad Oaks North Corporate Business Park. Colliers International's Mike Erwin, Conor Boyle and Tucker Hohenstein will handle leasing of the property.
RAF is also developing dis•trib•ute, two buildings totaling 277,410 square feet in Carlsbad, which will incorporate a mix of modern creative office and highly-functional industrial suites. All suites will feature dock-level and grade level doors with a clear height of 30 feet. The $44 million development will also include an outdoor amenity space. Cushman & Wakefield's Aric Starck and Dennis Visser will handle leasing at the property.
The third project will be pro•duc•tion, a 219,477-square-foot, four-building industrial campus, RAF Pacifica Group's first ground-up spec development in San Marcos. The $37 million project will feature tech build-outs, flexible office space, 28-foot clear height ceilings, and overall high-end finishes. Mike Erwin, Conor Boyle, Tucker Hohenstein of Colliers International and Adam Molnar and Greg Lewis of CBRE will handle leasing.
"Our strategy is to develop high-quality industrial and office properties in irreplaceable coastal locations throughout San Diego County," Robinson said. "By breaking ground on over half a million square feet of spec-creative industrial developments, we plan to capitalize on the growing demand for quality industrial space in this market."
These buildings also include creative office features such as outdoor amenity areas, extensive glass for natural lighting, and an overall higher percentage of office than found in traditional industrial facilities.
Key Location
According to Robinson, North County San Diego's coastal appeal and entrepreneurial spirit make it extremely favorable to the growth of local businesses.
"In recent years, it has emerged as a hub of tremendous growth and innovation, attracting a diverse array of businesses in the tech, life sciences, and manufacturing industries," he said. "In fact, Google recently dubbed Carlsbad, one of the North County cities along the I-78 Corridor, the 'digital capital of California,' based on the strong online presence of the region's dynamic business community."
In addition to the region's cluster of entrepreneurial tech startups, North County boasts first-rate schools, housing and a superior quality of life. The cost of living is also significantly lower than in markets such as the Bay Area and even other parts of San Diego, and as such, residents and businesses are migrating to North County in search of affordability and a higher quality of life.
Given North County's market dynamics, there is an even deeper need for creative spaces within industrial buildings to foster innovation and collaboration.
"The tightening availability of quality industrial space has resulted in sub-five percent vacancies throughout San Diego and upwards pressure on lease rates," Robinson said. "As demand continues to outpace supply, there is a growing need for newer industrial product to fill this shortfall."