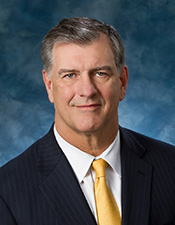 In the eight years since Dallas Mayor Mike Rawlings has been in office, the Texas city has seen huge economic growth. Last summer, a Yardi Matrix report found that Dallas had the largest multifamily pipeline in the country. Rawlings talked to CPE about development projects in different areas of the city, why young people are moving there more than ever and why affordable housing is so important for the future of the city.
You started the GrowSouth Initiative to spur economic opportunity in southern Dallas and that entailed pushing development and neighborhood revitalization in southern Dallas. Can you tell me about some of the projects that have been developed as part of this program or that are in the works?
We understood that southern Dallas was our biggest growth opportunity. It was 55 percent of our land mass, but it didn't have the same economic development as the rest of the city. So we put together a business plan to look at projects and also look at the environment itself to make sure it was ready to digest those projects and then worked on the capital side of it.
On the project side, we've made a significant amount of progress. Across the river, we've got Trinity Groves, which is now one of the best parts of our city from a growth standpoint, with restaurants, apartments and entertainment venues. On the south part of our city is The Cedars, where we've gone from just acres and acres of empty lots to now housing, affordable housing and entertainment. We've put our first movie theater in southern Dallas (in) 30 years. We were able to buy a mall in far, far South Dallas called Redbird Mall and get it out of absentee landlord pockets and put it with a developer in Dallas. The city's been a major partner there. So we're building a mixed-use community there where we've got healthcare facilities, we've got workout facilities, we've got our first Starbucks down there and we're going to have a major groundbreaking on some other projects in the next month.
We were able to build a PGA golf course in southeast Dallas and move the AT&T Byron Nelson tournament there. We had our first one last spring and the second this year. So to have the amount of individuals that are now going there is remarkable. Schools are popping up all over the place, and we've privatized Fair Park, which is the cornerstone of South Dallas proper, and we're making that a 365-day-a-year facility for us.
Let's talk about downtown for a little bit. There has been a lot of development over the past decade, including hospitality and office space. How did all of that come about?
It's many strategies that came together, but let me try to capture it in a couple of paragraphs. First of all, we have a major new park, Main Street Gardens. We have concerts there, barbecue festivals, Mardi Gras―it's amazing all the things that happen in that park. I tell that story because greening downtown was part of that strategy. We have Klyde Warren Park, which the New York Times just wrote a big article on, that connects downtown and Uptown, and we have half a dozen other parks under construction or that I've cut the ribbon for in the last eight years. So making sure that every building is close to a green space is very, very important. The second thing is we have enabled, through Tax Increment Financing methodology , a lot of rebuilding and repurposing of older buildings. Most buildings downtown, for the most part, were empty. And now all the buildings are either full or undergoing a major renovation within them.
On the visitor part of things, we've built a new convention hotel next to our convention center and that has spurred a lot of tourism and convention business. In the last 10 years, we've got 10 to 15 new hotels built or under construction. The tourism business is significant as well . And then just attracting new businesses to downtown. Technology, entertainment, advertising―it is the cool place to work now and so many businesses are moving in. The last thing is making it a place that's very livable, and part of that is rebuilding and repurposing these buildings. There are thousands of new units up and running― we've got more than 12,000 residents downtown now. So it's a place where people are living and they're working and playing all in one place.
Last summer, a Yardi Matrix report found that Dallas' central business district had the most available infill in the country. Is there still a lot of opportunity left in downtown?
There is. AT&T has their worldwide headquarters here and they're doing things around their area. But on the outer edges of downtown, that's where we have a lot of open spaces. I just got out of a meeting with a developer that has tied up all the land and is going to be announcing in the next couple of months a project with 10 new buildings and hundreds of thousands of square feet of new office and mixed-use projects. On the other side of town, a developer named Harwood International has been slowly buying up land, and every time they buy up land something goes vertical, and that's the connection to the community north of downtown. On the western part of downtown, Victory was a development that was built and is where the (Dallas) Mavericks play and the (Dallas) Stars play. That site has gone from kind of a bust to now a new boom, so that's come back strong.
Going back to Klyde Warren Park and other green spaces that have been developed, in your State of the City address in December, you talked about how proud you were of how far Dallas has come with green space. Are there other green spaces and parks that we didn't mention before and how did you get those done? Was it something the residents and city really wanted and needed?
I think it's a combination of public commitment and private money. First of all, we had to commit to bond dollars and investing in those, repurposing land, and now 150,000 residents can walk to a park within 10 minutes that weren't able to do that before. So we've given access to public bond money for those citizens to get close to green space. And the private sector has stepped up in a big way. Most of the parks downtown have significant amounts of private money in excess of $60 million to $70 million in private money that has been put into them. And we have a new park underway in our Trinity River corridor that really kind of divides our town into north and south, and we were able to raise $50 million to get that project underway. So the private sector has made a major commitment on this, but the public side has been there to try to match that as much as possible.
In terms of the multifamily market, Dallas has experienced a huge amount of development recently. A Yardi Matrix report from last fall showed that Dallas has the biggest pipeline of multifamily units in the country. What factors have led to this and do you think this will continue?
I think the growth of Uptown as a region was a big driver of that. Uptown was created some years back, but the fact that Klyde Warren Park connects Uptown and downtown now made it spur a lot faster. The geographic areas are now in East Dallas as well as south of downtown. It started downtown and it has kind of concentrically grown over into Trinity Groves, which is west of downtown, and I think more and more people are seeing the growth of our city from inside out, versus outside in. And that has helped a lot.
The second thing is we are a place for younger people to live now. It doesn't have to be as hard as it is for so many people living on the East Coast to enjoy life. The quality of life is good, the entertainment is good, the restaurants, the lifestyle―we're kind of a hot place for young people to move to, especially those that have white-collar jobs. Austin's always been a younger town, but it's been a little bit more of a college town. People say this is where people come and kind of plant their flag and end up starting a family and growing and staying long term. I think being a younger city now has fed into that housing boom in a terrific way. And it's all driven by businesses.
Now, we've got the same issue that a lot of other cities have in affordable housing, because we're growing so fast and so many people are moving here. We've got young families with kids and we have a dearth of affordable housing needs. I think we've put a number at 20,000 units that we need to have, and that's one of our challenges that we're working on.
This is your last term as mayor, a position you've held since 2011. Looking ahead, what challenges do you think the next mayor of Dallas should tackle during their term?
I hope the next mayor of Dallas continues our efforts in education, because education is the key to all of this. We need to have more educated tech workers and we need to have families moving into town, middle-class families that send their kids to public schools and have confidence in those schools―education is No. 1, 2 and 3 for the future of our city. We've made tremendous progress over the last eight years in our public schools―they are really leading the state of Texas in growth and performance now―but there's so much more to do. Affordable housing and mastering the public transportation strategy so we don't have as many cars on the road is going to be critical. Because as we grow, we just can't build enough highways. We've got to have more appropriate public transportation. Those are kind of the big three issues that we face.
Are you sad that you won't be mayor anymore? What's next for you?
No, I'm not going to be sad. It was very rewarding, but all good things must come to a pass. I'll go back into business. It's been great to give my time as a public servant to the city because it's really fabulous and there are so many great people in the city, as well. But I'll be moving on to the next chapter.