By Anna Spiewak, News Editor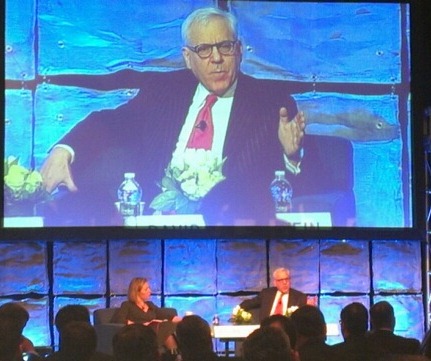 Despite construction costs on the rise and financing still not being up to par to pre-Great Recession times, real estate is still the soundest investment of today and tomorrow, according to commercial real estate high rollers who spoke at Pension Real Estate Association's 2013 Spring Conference in Washington, D.C.
"Real estate is a great investment, if you have real estate expectations, it'll raise returns," said David Rubenstein, chairman & founder of The Carlyle Group during the earlier part of the first part of the two-day conference taking place March 14-15. "Real estate does not appreciate at 20 percent a year, but if you love to touch and feel the asset and you want something that has some stability to it and you're happy with the rate return that is realistic, at about 15 percent, I think real estate is universally good to invest in."
As for which category of commercial real estate is best to put your money in going forward — housing still takes the cake. There is a perceived shortage of housing in the United States today, as no new development has gone up the last couple of years, and yet the population continues to drastically grow, to 315 million in 2013, up by 2.2 million from the year 2010, according to the Census Bureau, which predicts that number to increase to 400 million by 2050.
"Apartments have the lowest lease structure, but also have the lowest cap rates and low cap rates are very important," said Ken Rosen, chairman of Rosen Consulting Group, a real estate market research firm, and one of the three conference co-chairs, adding that low interest rates are very positive for those struggling to get credit.
During the Multi-Family Investment session portion, Mike Kirby, chairman & director of Research at Green Street Advisors agreed that "household formation is perking up," and job growth numbers are encouraging, adding to the fact that apartment demand will remain strong.
According to panelists, the dream of home ownership has not gone, but simply slowed down, as rent growth has peaked. The average apartment rent increased by 4.1 percent in 2012, and is predicted to increase by 4.6 percent this year, according to National Association of Realtors' fourth-quarter report.
Ken Rosen brought up the latest Fannie Mae Monthly National Housing Survey, which reflects that "people under the age of 35 don't have their lives settled yet." Many of them cannot afford putting down a downpayment on a house or a condo, because generation X and Y are stricken with the burden of student debt.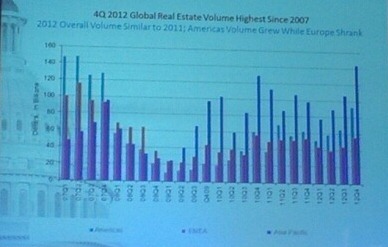 "They don't think it's a good investment, they have a dream, but there's restraint," Rosen added.
While multi-family investment was the highlight topic during all of the panels, the subject of student and seniors housing was glazed over as well. According to Kirby, student housing has especially been a profitable business, especially for American Campus Communities.
"Lots of people have kids in college and the places they live in are run down, lots of these places are getting replaced," he added.
Similarly, the senior sector is seen as generating "excellent growth" while supply remains fairly low.
During the Urban Investment session, panelists differentiated between Manhattan and the rest of the world," only mentioning San Francisco as a possible contender for an urban high yield investment.
"Although society reflects a desire to stay urban … there are few places where urban investment works," said Jeff Blau, CEO of Related Cos. "The wealth is there, but there's not enough population, it gets limited quick."
Panelists gave most credit of their successful urban investments to luck and to Mayor Bloomberg for being development-friendly, overhauling zoning and planning rules to allow New York skyscrapers to soar. Most recently, under Bloomberg's push, the Department of City Planning proposed a zoning strategy for 78 blocks of the East Midtown office area centered around Grand Central Terminal and generally located between Fifth and Second/Third avenues, and East 57th and East 39th streets with Park Avenue as its center, according to DCP's website. Despite Bloomberg's run coming to an end and a New York's mayoral election around the corner, the real estate moguls remain positive about the future of urban investment.
"There won't be another mayor like Mr. Bloomberg, but we're hopeful the next person won't take us backwards," said Michael Fascitelli, president & CEO of Vornado Realty Trust, clarifying that he hasn't officially retired just yet.
While economy and politics were the highlight topics at the conference, and several voiced concerns over investing less during hard times, and appropriately for being in the country's capital, took pot shots at the government, calling it "an easy target," the majority remain hopeful about CRE's future, seeing the country three fourths into recovery mode now, and out of the recession, reflective of the recent spike in job growth, nearly 200,000 jobs were created in February, according to ADP.
"Interestingly that as things as the sequester started getting on the horizon, and all the craziness that goes on down here (referring to Washington, D.C.), the private sector actually picked up the pace," said Rosen, adding that "the fed will be late to the party, behind the curve, but once they get in, it'll get done," referring to government's role in economic recovery.