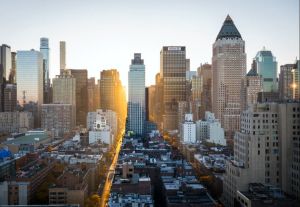 Commercial real estate is ready for a rebound, and industrial will lead growth over the next three years, according to the economists and analysts interviewed for the Urban Land Institute's semi-annual Real Estate Economic Forecast released Wednesday.
The office sector is projected to rebound by 2023 after several years of vacancy increases and rent decreases.
---
READ ALSO: Top 10 Markets for Industrial Transactions in 2020
---
Based on the opinions of more than 40 economists and industry analysts, ULI's forecast provides predictions for 27 economic and real estate indicators including housing prices, employment, GDP, inflation, vacancy rates and housing starts. Rents for five property types including industrial and office are also included.
The responses from the experts were a reversal from some of the pessimistic forecasts from the spring of 2020, soon after the COVID-19 crisis had hit, ULI leading member William Maher said in a prepared statement. Maher, director of strategy and research at RCLCO, said the current forecast goes even further with several of the forecasts now ahead of long-term averages.
"Among the 2021-2023 metrics predicted to outpace long-term averages are GDP and employment growth, the unemployment rate, real estate transaction volumes, warehouse and apartment occupancy and rent growth, and single-family housing starts and price appreciation," Maher said.
Transactions dropped by nearly 30 percent from $598 billion in 2019 to $427 billion in 2020—the lowest volume in seven years but well above the declines seen during the Great Financial Crisis. The report stated volume is expected to recover quickly over the three-year forecast period, reaching $500 billion in 2021, $550 billion in 2022 and $590 billion in 2023.
 More key findings of the report, issued Wednesday during a members-only webinar, included:
U.S. GDP is expected to rise by 6.5 percent in 2021, up from a decrease of 3.5 percent in 2020, and an increase from the October 2020 forecast. GDP should rise 3.9 percent in 2022, down from the October forecast, and increase 2.5 percent in 2023.
Net job growth is expected to increase by 5.5 million in 2021, a stronger projection than the October report, but will taper off to 3.0 million in 2022 and 2.1 million in 2023 for a three-year total gain of 10.6 million jobs. The national unemployment rate is forecast to be 5 percent for 2021 and then drop to 4.1 percent in 2022 and 4.0 percent in 2023.
Rent growth is expected to be uneven over the next three years depending on the sector but industrial continues to lead with an average rent increase of 3.6 percent between 2021 and 2023. Specifically the report projects industrial rents to rise 4 percent in 2021, 3.7 percent in 2022 and 3.1 percent in 2023. Office rents, which had grown an average of 2.1 percent prior to the pandemic, declined by 0.3 percent in 2020 and are expected to decline 2.9 percent in 2021. No change is expected for 2022, with a projected increase of 2 percent in 2023.
Change in vacancy and availability rates will also differ by property type. This year, industrial availability is expected to be unchanged at 7.4 percent, well below the 20-year average of 10.4 percent. Availability should drop to 7.3 percent in 2022 and 7.2 percent in 2023. Office vacancy rates are expected to rise to 16.5 percent in 2021 and decline slightly over the next years, reaching 15.7 percent by the end of 2023. Office vacancy rates had reached a post-GFC low of 12.2 percent in 2019 before reaching 15 percent in 2020.
The forecast for total returns as measured by the National Council of Real Estate Investment Fiduciaries Property Index are expected to keep rising and are forecast at 4.5 percent for 2021, 5.9 percent for 2022 and 6.5 percent for 2023. Industrial total returns are expected to increase to 12 percent this year, making it the 11th year for returns above the long-term average. Industrial returns are projected to moderate to 9.3 percent in 2022 and 8.2 percent in 2021. The report notes these would be the lowest industrial returns in 14 years. Office total returns are forecast to remain low but increase to 3.2 percent in 2022, up from 2.2 percent this year. In 2023, total office returns are forecast at 5.4 percent.