PM Realty JV to Build Tall in Downtown Denver
PM Realty and National Real Estate Advisors have decided to add something a little different to Denver's sizable multi-family pipeline.
By Keith Loria, Contributing Editor
PM Realty Group and National Real Estate Advisors have received $79 million in financing for The Confluence, a 288-unit, luxury residential tower in downtown Denver.
HFF secured a 48-month, 65 percent loan-to-cost construction loan through a national bank financing on behalf of the joint venture.
"This is a development of a 34-story, multi-family high-rise in downtown Denver, which is arguable the best site in downtown," Josh Simon, HFF's managing director, told Commercial Property Executive. "It's located on the confluence of Cherry Creek and the Platte River, which are both walking and biking trails that offer tremendous access to downtown."
Units will include one-, two- and three-bedroom options averaging 1,040 square feet. Apartment features will include hardwood floors, solar shades in every home, gourmet kitchens with granite countertops and Frigidaire Professional Gallery/Electrolux appliances. Select apartments will also showcase floor-to-ceiling windows.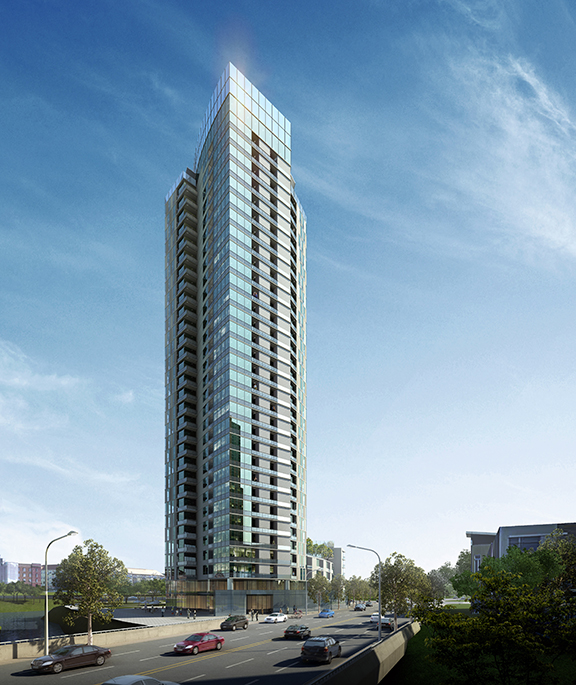 Community amenities will include a state-of-the-art fitness center, swimming pool with lounge and cabanas, spa, fire pit, game room, clubhouse and business center.
Located on the southwest corner of 15th Street and Little Raven Street in the Riverfront Park area of the Lower Downtown district, the 34-story tower will be situated on 1.21 acres and offer mountain and skyline views.
"The Denver market as a whole is performing extremely well. There is a big multi-family pipeline but this is a very different product than most of the other developments going in around downtown," Simon said. "Those are more traditional five- and six-story projects, with only a couple of high-rise developments in all of downtime, and most stop at 23 floors or below."
The Confluence will become the tallest building in Riverfront Park. Additionally, the building will include 10,000 square feet of retail and a 300-space underground parking garage.
According to Simon, the financing includes a longer initial term with extension providing more of a mini-perm option without sacrificing the very low floating-rate or any other terms of the loan.
The Confluence is scheduled to be complete in 2017.