By Keith Loria, Contributing Editor
New York—AppNexus unveiled its latest designs and details for the new Union Square Tech Hub, a 258,000-square-foot project that will provide space for tech worker training, education, startups and convening.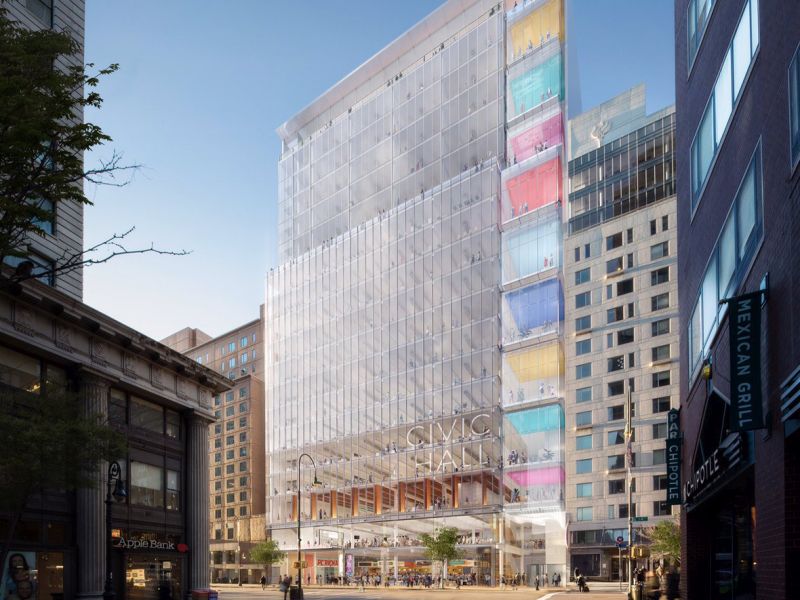 The $250 million project is being developed by RAL Development Services and designed by Davis Brody Bond. The development will also include traditional and flexible office spaces that will provide tech companies with direct access to a steady pipeline of potential future employees.
"This new hub will be the front-door for tech in New York City," Mayor Bill de Blasio, said in a prepared release. "People searching for jobs, training or the resources to start a company will have a place to come to connect and get support. No other city in the nation has anything like it. It represents this City's commitment to a strong and inclusive tech ecosystem."
The Union Square Tech Hub will be anchored by Civic Hall, a collaborative work and event space advancing the use of technology for the public good. Civic Hall will include a diverse mix of community organizations, tech companies, city, state and federal agencies, and individual civic entrepreneurs.
"We are thrilled to be the anchor tenant of a project that solidifies The City of New York's commitment to making sure every New Yorker has access to 21st Century skills and jobs," Andrew Rasiej, Civic Hall's founder & CEO, said. "When complete, the facility will not only produce thousands of new digitally trained workers to support the city's fast growing technology ecosystem, but will also act as a model for how technology can support economic and civic renewal."
Located at 124 East 14th St., the current site of PC Richard & Sons Union Square, the Tech Hub will consist of a hub for civic innovation, job creation and fluid work and learning opportunities in a state-of-the-art tech-enabled facility.
"This project will set a new standard for the booming creative economy around Union Square," Robert Levine, RAL Development Services' president & CEO, said. "From the outset, we identified Civic Hall as the perfect anchor for this project, and we've built a comprehensive, cutting-edge program around their strong track record in the industry."
As part of his 2017 State of the City address, Mayor de Blasio is committing to spurring the creation of 100,000 good-paying jobs, including these innovation jobs, within the next decade—and including adding 40,000 jobs in the next four years.