By Keith Loria, Contributing Editor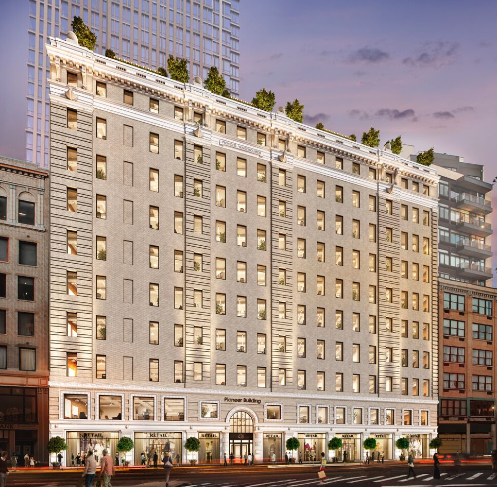 A joint venture between Quinlan Development Group, LLC and Building and Land Technology unveiled renderings and details of The Pioneer Building, a $30 million redevelopment at 41 Flatbush Ave., in Brooklyn, N.Y.
The 10-story property was christened with the name to reflect the 100-year-old building's original name as The Pioneer Warehouse. The redevelopment will include 260,866 square feet of modern office and retail space for occupancy in 2016.
"Forty-one Flatbush is an architecturally distinctive building that features cast iron columns, barrel vaulted ceilings and decorative brickwork that presents the perfect solution for the office tenant looking to work in an authentic Brooklyn building," Tyler Wilkins, a partner at Quinlan Development Group, told Commercial Property Executive. "It resides in the epicenter of a new downtown being created in Brooklyn."
The 41 Flatbush building will be the first office building developed in Downtown Brooklyn since 2005.
"Over the next few years, over 14 million square feet will be developed comprised mostly of residential, hotel and retail uses," Wilkins said. "There presently exists a strong, pent-up demand for quality office space in this area of Brooklyn—'a demand that is a decade in the making."
The Pioneer Building will feature barrel-vaulted terra cotta ceilings, brick walls and ornate limestone façade. Interior finishes and exterior enhancements have been designed by architects Beyer Blinder Belle—known for their work on Grand Central Terminal and Rockefeller Center.
"The company's investment thesis focuses on investing in value-added opportunities in the path of growth—41 Flatbush is the perfect example," Wilkins said. "New features include new, oversized, energy-efficient windows, state-of-the-art tenant-controlled HVAC units, industrial-sized elevator cabs, a renovated lobby tailored to the prospective creative tenants who will occupy the building, a landscaped roof terrace with views of all of Downtown Brooklyn and the New York Harbor and an on-site bicycle storage facility."
Practically every major subway line and the LIRR run within a few blocks of the property. Additionally, sitting on the intersection of Fort Greene, Boerum Hill and Downtown Brooklyn, right in the middle of the BAM Cultural District, the property has ready access to a multitude of cultural, retail and culinary amenities, all within walking distance.
The Cushman & Wakefield team of Bruce Mosler, Mikael Nahmias, and Joseph Cirone has been tapped as exclusive leasing agent for the offering.