By Gabriel Circiog, Associate Editor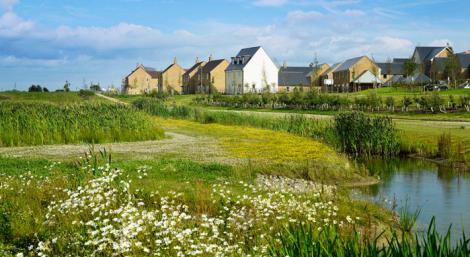 Places for People, a UK-based property management, development and regeneration company, recently announced it has entered into a new joint venture with Barratt Homes that will create 2,000 new homes at their Brooklands development in Milton Keynes, England. Places for People was advised on the joint venture by Savills.
"At a time when new housing is desperately needed, our partnership with Barratt will enable us to build new homes and community facilities at a much faster pace," said Chief Executive of Places for People, David Cowans.
Situated adjacent to junction 14 of the M1 motorway, Brooklands is part of a 145-hectare (360-acre) site. Places for People has built to date 250 homes on the land and has provided a substantial amount of infrastructure, open space and community facilities, as well as land for a new primary school.
"Brooklands is different to many other housing developments as it offers a genuine community feel and a variety of facilities that allow people to mix and integrate," Cowans added. "It has proved hugely successful and we want to build on this success via this new joint venture. Working together, we will be able to develop the site more quickly than would otherwise have been possible, in particular the infrastructure that will continue to make Brooklands a great place to live such as the public realm, shops and schools."
Construction on the new homes is scheduled to start in May 2014. Barratt will provide development, construction, accountancy and sales services. Upon completion, the affordable houses, which will include not only rental but also shared ownership tenure, will be purchased by Paradigm Housing Group.
Apart from the new homes, the site has outline planning permission for a local center that will feature shops and office space, as well as for parks and open spaces, which Places for People will continue to deliver. The company will also continue to remain responsible for Brooklands Square, a town square with shops, cafes and restaurants. Places for People will also handle the design, co-ordination and implementation of the roads, drainage, off-site highway improvements, community facilities, such as a primary and secondary school, scheduled for completion within the next couple of years.
"Our business is expanding, built on our capability to deliver challenging projects on time," said Andrew Swindell, managing director of Barratt Northampton. "This site continues our heritage in Milton Keynes where we've built around 800 homes in the past five years. We have an outstanding track record of delivery and we will be on site as soon as possible."