By Keith Loria, Contributing Editor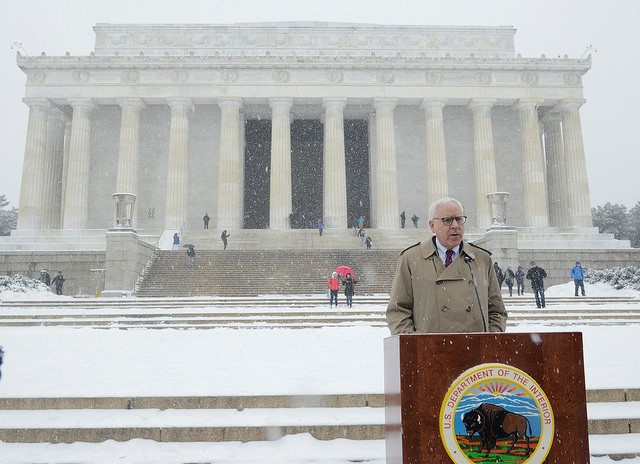 Washington—David Rubenstein, co-founder & co-CEO of The Carlyle Group, has donated $18.5 million to the National Park Foundation for the restoration of the Lincoln Memorial, honoring our nation's 16th president, Abraham Lincoln.
"The renovation and expansion of the Lincoln Memorial made possible by Mr. Rubenstein's gift represents a tremendous opportunity for the National Park Service to better tell the story of Abraham Lincoln," Mike Litterst, National Park Service's public affairs officer, told Commercial Property Executive. "The timing is particularly beneficial, as we mark the 100th anniversary of the establishment of the NPS this year, and prepare for the centennial of the dedication of the Lincoln Memorial in 2022."
Approximately 7.1 million people visit the Lincoln Memorial annually. Rubenstein's gift will allow the NPS to repair damaged brick and marble masonry and clean the memorial; conserve the Jules Guérin murals located above the memorial's inscriptions; create approximately 15,000 square feet of functional space including exhibit, education and research areas; and add an elevator to improve accessibility.
"These improvements will hopefully enable more people to better understand and appreciate Abraham Lincoln's remarkable leadership during one of the most trying periods in American history," Rubenstein said in a prepared release. "I am humbled to be a part of honoring this great man and preserving this iconic memorial for future generations."
According to Litterst, the project will take place in four phases over four years, from 2016 through 2019. During Phase I, the National Park Service will restore the roof, clean the sculpture and conduct masonry repairs. At the same time, design of the space and exhibits for the renovated visitor space will begin.
Phase II will tackle the major underground work to renovate and create the new visitor spaces. During this time, the National Park Service will also begin to design and produce the new exhibits.
During Phase III, the NPS will install state-of –the-art exhibits in the finished underground spaces. During Phase IV, the NPS will enhance the surrounding landscaping.
"Beyond honoring Abraham Lincoln and his presidency, the Lincoln Memorial has stood witness to key events and significant figures in America's Civil Rights Movement, from Marian Anderson to Martin Luther King, Jr.," Jonathan B. Jarvis, NPS's director, said in the release. "We are honored that David Rubenstein's generous gift and patriotism will help the National Park Service tell the diverse stories of America's past and demonstrate their continued importance to our nation."