October 17, 2011
By Barbra Murray, Contributing Editor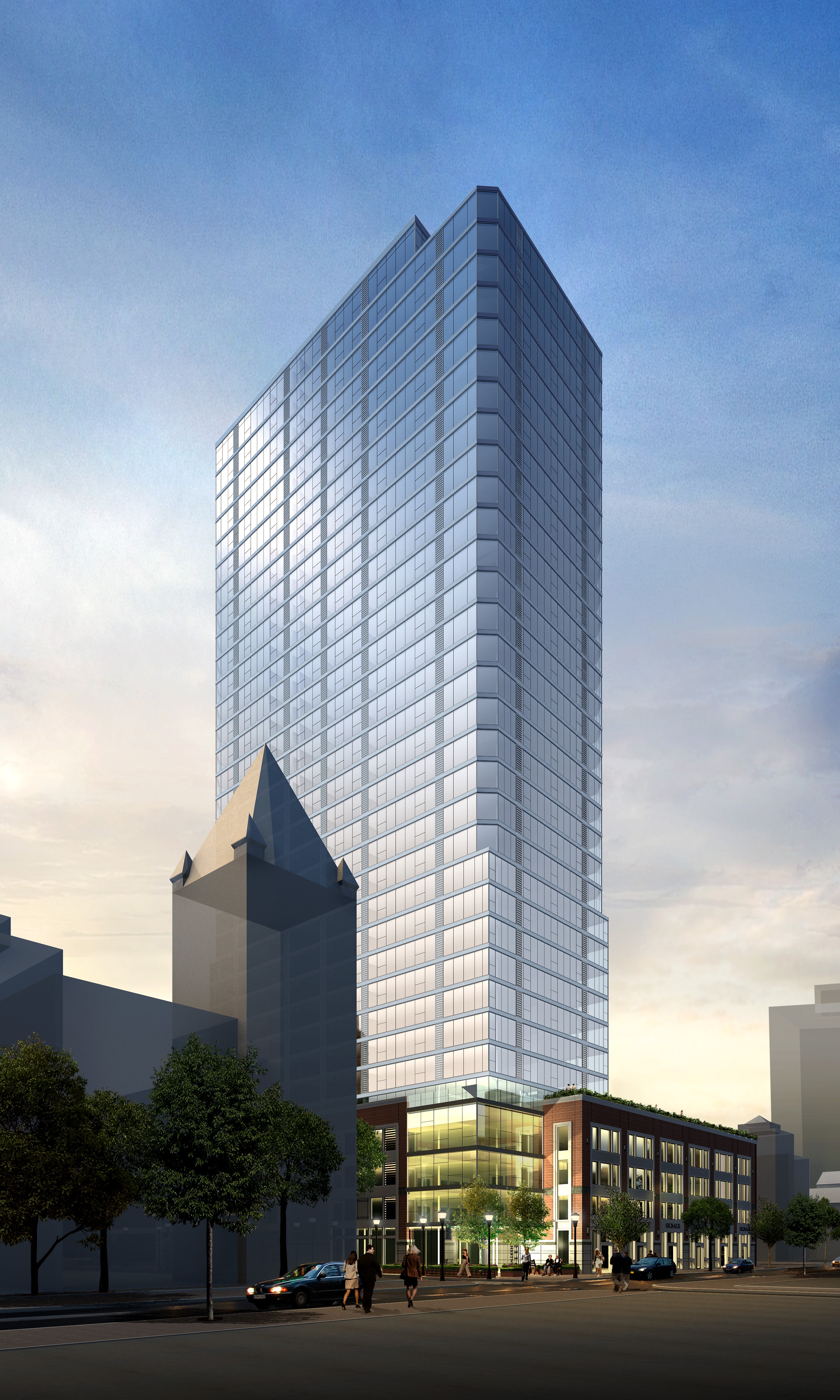 A 34-story residential and retail project is on track to break the long drought of high-rise development in Philadelphia. Chicago-based John Buck Co. reached a milestone last week when it closed on the acquisition of a union-owned facility in the Center City district.
Scheduled for completion in the second quarter of 2013, the $104 million project would be the first high-rise in any property category to get under way since the 2008 opening of the 1.25 million-square-foot Comcast Center, the city's tallest building at 975 feet. "I think it's going to be a great addition to the skyline," John Buck principal Lori T. Healey told CPE. "We're very excited to be in the Philadelphia market; we've got projects in New York and we have buildings in D.C., but this is our first foray into Philadelphia."
The project will take shape at 2116 Chestnut Street, currently the site of the Sidney Hillman Medical Center, operated by the Philadelphia affiliate of Workers United, a national labor union. As part of the deal, John Buck will build a replacement medical center nearby at the intersection of Van Pelt and Sansom streets.  Abatement of the existing Sidney Hillman facility is scheduled to start today.
Designed by Hartshorne Plunkard Architecture and Voith & Mactavish Architects, the tower will target a growing market. "Twenty-first and Chestnut is just a couple of blocks off Rittenhouse Square, which is the premier residential location, and it's also very close and convenient to the central business district,"  NorthMarq Investment Services senior vice president Jim Sheehan told CPE. "You can live there and you have all the benefits of walking to work, walking to fine restaurants along Chestnut and Walnut and at Rittenhouse Square."
Conditions appear to be right for 2116 Chestnut. Developers in the lively Center City submarket have avoided the overbuilding that plagues the multifamily sector in markets like Las Vegas and Florida. As a result, residents seeking new rentals have had relatively few options. "That last wave of construction we had was for condominiums, not for rentals," Sheehan explained. "A lot of those projects came on the market in 2008, so they didn't really sell out, but now they're being rented."
The new property will include also 130 enclosed parking spaces and more than 9,000 square feet of retail space.  A capital markets environment that tends to look favorably on the apartment sector helped the project secure financing.  "Lenders do want to lend on rental residential," Susan Hammersley, senior vice president and project manager with JBC, added. "And they view this project very favorably."  Besides capital from private sources, JBC secured $10 million in public funds from Pennsylvania's Redevelopment Assistance Capital Program.