By Gail Kalinoski, Contributing Editor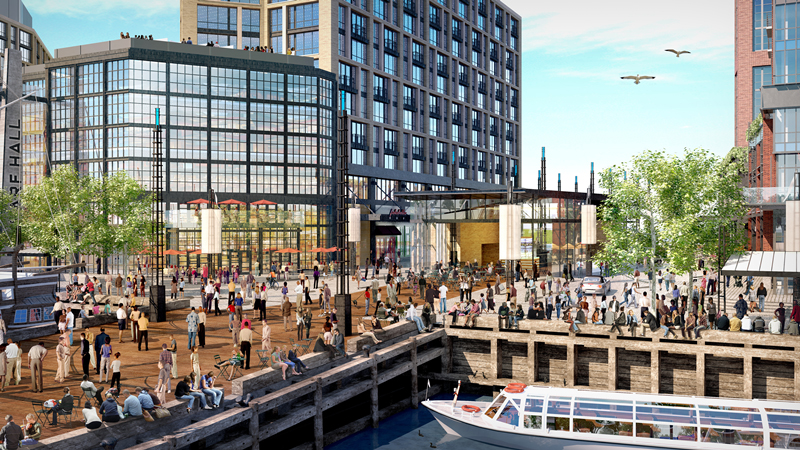 Development of Phase One of the 24-acre, $2 billion The Wharf project along Washington, D.C.'s Southwest Waterfront got under way this week, eight years after it was proposed.
Monty Hoffman, CEO of PN Hoffman, noted at the groundbreaking ceremony that it took "$65 million, seven council votes and three acts of Congress" to get to the development stage.
PN Hoffman and Madison Marquette in a joint venture known as Hoffman-Madison Waterfront are the lead developers on the mixed-use development on the historic Washington Channel. The team also includes ER Bacon Development, City Partners, Paramount Development and Triden Development.
The Wharf is adjacent to the National Mall with a development area stretching one mile from the Municipal Fish Market to Fort McNair. Once built out by 2021, it will comprise 3.2 million square feet of residential, office, hotel, retail, cultural and public uses, including waterfront parks, promenades, piers, and docks.
Phase One, with a building area of more than 1.9 million square feet, is expected to cost about $775 million and will include 620 apartments; 290 condominiums; 175,000 square feet of retail; an 11-story office building; and three hotels, including a 268-room InterContinental run by Washington, D.C.-based Carr Hospitality. The hotel will be near one of the new piers, where guests will be allowed to use some of the boat slips. The first phase, expected to be completed by 2017, will also include 20 bars, restaurants and cafes, a movie theater and 6,000-seat concert hall.
Financing for Phase One includes $220 million in equity from PSP Investments of Canada, which was obtained earlier this month, according to The Washington Post. Other financing includes nearly $400 million in private debt and $113 million from the city, the Washington Business Journal reported.
In a press release describing the project, Hoffman called The Wharf "a rare development opportunity."
"Our plan is a combination of aesthetics and activity," he said. "We want to reclaim the waterfront and transform this corner of the District."
Perkins Eastman, a leading design and architecture firm and the project's Master Planner, is designing the public areas, including the Wharf, District Pier, Transit Pier, Market Pier, Mews and two levels of below-grade parking for more than 1,500 vehicles. The firm is also designing two residential towers; a 200,000-square-foot office building; the 150,000-square-foot concert hall as well as 25,000 square feet of retail and 15,000 square feet of upper-floor entertainment space.
"We're proud to be helping return the city back to where it began, with mixed uses and high density all activating one of the world's premier maritime destinations,"  said Stan Eckstut, principal of EE&K, a Perkins Eastman company, who is leading the design team. "Designing The Wharf is about creating places where people want to live and visit, bringing the human scale to a large-scale development. It's pedestrian-oriented, water-oriented, and transit-oriented development all in one."
John Benziger, regional managing principal for Cassidy Turley in Washington, D.C., who is not part of the development, called The Wharf "a tremendously exciting project for Washington, D.C."
"If you look at any other city that is located on a river or other body of water, that is where people want to work, live and play," he told Commercial Property Executive. "With the exception of Georgetown, Washington has not really followed that pattern. I think it will be a huge success."