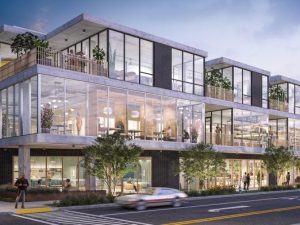 Pennybacker Capital is keeping up with the construction timeline of 1515 Cesar Chavez, a creative office development totaling 71,632 square feet in Austin, Texas. The developer has appointed JLL to lease the office project after its completion.
In July, Pennybacker Capital secured a construction loan funded by First United Bank and Trust Company, Travis County records show. The developer of 1515 Cesar Chavez broke ground in May and the site is currently being excavated, with the project expected to come online in August of next year.
---
READ ALSO: Officials Woo $17B Samsung Chip Plant With Tax Incentives
---
The three-story development is taking shape at 1515 E. Cesar Chavez St. and will also include an underground parking component along with ground-floor retail space. The low-rise will feature an open courtyard, private terraces, a patio on the third floor, an open air staircase protected by a green wall, a custom wood storefront and a curtain wall with floor-to-ceiling glass.
The development is easily accessible, four blocks away from the Plaza Saltillo light rail station, with several bus stops within walking distance and Interstate 35 less than half a mile away. Downtown Austin is less than 2 miles northwest.
Austin: fastest-growing office market
As of July, the national office pipeline surpassed 157 million square feet of projects underway, according to CommercialEdge data. In Austin, a total of 9 million square feet of office was under construction, representing 10.5 percent of total stock, more than four times the 2.4 percent U.S. rate. Austin has, in fact, the fastest-growing office stock among U.S. office markets.
Less than half a mile away from 1515 Cesar Chavez, Hines is developing the first mass timber office that also incorporates a residential element. The developer has also selected JLL to provide leasing services for T3 Eastside.