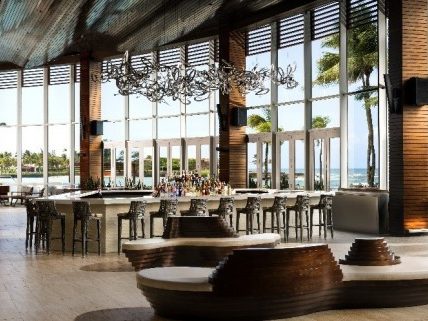 Closed since Hurricane Maria devastated Puerto Rico in September 2017, the 652-key Caribe Hilton in San Juan, Puerto Rico, has reopened following a $150 million restoration by Park Hotels & Resorts, Inc.
All 652 guestrooms at the resort, the first Hilton property to open outside the continental United States in 1949, were completely renovated. All public spaces, building systems and building envelopes were better fortified to protect the exterior against future storms.
Key upgrades included the rebuilding of the fitness and spa building, now featuring oceanfront views from floor-to-ceiling glass windows, all new equipment and a state-of-the-art spa; The open-air lobby was redesigned to highlight the expansive ocean views; The 11 food and beverage outlets were renovated with new additions including a swim-up bar; The resort's 65,000 square feet of meeting space was also upgraded with new audio-visual equipment and activated indoor/outdoor spaces and breakout areas.
The resort is currently having its soft opening. A grand opening celebration is planned for June 18.
Other Island Renovations
Hurricane Maria hit Puerto Rico's hospitality market hard but most of the pre-Maria 15,000-rooms on the island have reopened or are expected online soon, according to the Puerto Rico Hotel & Tourism Association. Many like Caribe Hilton have undergone massive renovations.
In January, JLL's project and development services division said it had completed the first phase of renovations to the 454,200-square-foot Marriott San Juan Stellaris in San Juan. The first part of the two-phase restoration project includes a complete remodel of 123 cabana rooms, reconstruction of the restaurant and upgrades to the pool deck and ballroom. The remaining work in phase two will focus on restoring the remaining 405 keys to bring it up to a total of 528 guestrooms.
Park is Growing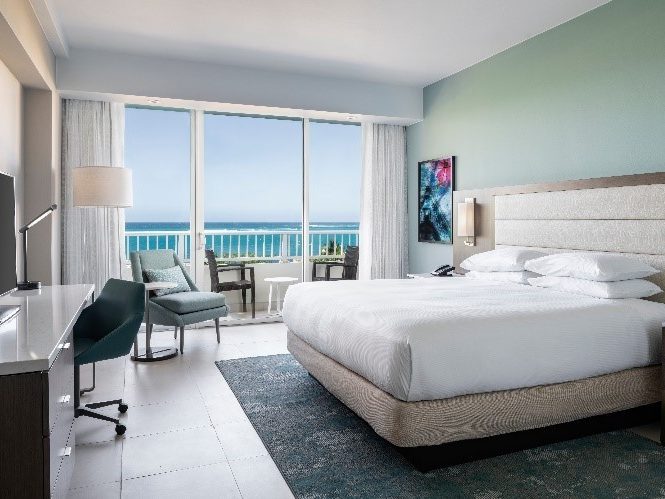 The reopening of the Caribe Hilton comes as Park, a Tysons, Va.-based company, is planning on getting bigger. Already the second-largest publicly traded lodging REIT with 51 premium-branded hotels and resorts with more than 30,000 rooms in prime U.S. markets, Park announced last week it has entered into a definitive merger agreement with Chesapeake Lodging Trust in a cash and stock transaction valued at about $2.7 billion.
When the merger is completed, likely in the late third quarter or early fourth quarter of this year, Park will initially acquire 20 of Chesapeake's assets. Both companies are in the process of selling several properties, including the Chesapeake-owned Hyatt Herald Square New York and Hyatt Place New York Midtown South, which have a total of 307 keys. When combined, the company will have a 35,383-key portfolio with 66 assets spanning 17 states and the District of Columbia and an estimated enterprise value of $12 billion.