By Jeffrey Steele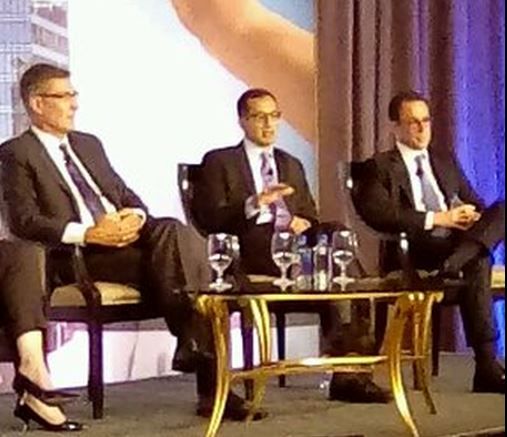 The first afternoon session at the DLA Piper 14th Global Real Estate Summit explored the increasingly critical topic of real estate placemaking.
Moderated by Vornado/Charles E. Smith President Mitchell Schear, the program titled Real Estate Innovation and Creativity: A Discussion of Placemaking brought together on one distinguished panel what Schear termed "the royalty of placemaking." The panelists were Forest City Washington President Deborah Ratner Salzberg, Federal Realty Investment Trust president & CEO Donald Wood, GGP Inc. President & COO Shobi Khan and Related Cos. CEO Jeff Blau.
Schear started by asking the panel what placemaking means to them. "I think of it as putting uses together and having them collectively be more attractive than any one alone," Blau said. "It's not just retail, it's dining. There's a cultural component and of course residential. Placemaking is all those things, happening at the same time."
Location, location, location
Localization is the key, according to Khan. "What works in Oak Brook (Illinois) may not work in Des Moines, which may not work in Honolulu," he said. "You have your home, your work, and what's that third place you go? What's changed is prioritization. The prioritization of where people want to be. It's broad. It's scope, scale, merchandising, " noted Wood.
Salzberg said that placemaking in The Yards, a 42-acre development on the Anacostia Riverfront in Washington, D.C., began with a single five-acre public park. "Each place is going to be different," she said. "They should be 'sticky' places. We want people to work there, shop there, live there and stay there."
If that's the case, what should the sticky places of the future offer in the way of retail? What will shopping look like in these live-work-play-stay places of tomorrow? 
"Retail is not dead," Blau said. "It's not going away, but it's changing. You have retailers today that couldn't sign a lease if they wanted to, and at the other end of the spectrum a lot of luxury guys who can set the terms, because they know the space that failing retailers left behind has to be filled. Retailing is changing, and I think for the better."
For his part, Wood said he believes that when these places are being assembled, the need for end-use malleability must be accorded prime consideration, and is key to making the numbers work. "But in many places, that's hard to do," he added.
"The word flexibility must come to mind here. We're in a tough period of time, where what placemaking is, is confined to a limited number of places."
For a setting to be successful, he added, "that ground floor really matters. How that looks and how that feels is more important than ever before. What we're doing on the ground floor has to be an art. And what's upstairs works if the street works."
Placemaking masterpieces
Asked for placemaking success stories, panelists talked of experiences in creating new spaces or transforming existing ones. Oakbrook Center in Oak Brook, Ill. is a more than half-century old lifestyle center transformed via a subdividing of legacy department stores into more and different retailers, eateries and educational and entertainment spaces. The result, said Khan, has been a dramatically improved real estate value per square foot.
Blau spoke of his top recent placemaking win—Hudson Yards on Manhattan's West Side—and its transformation from a mid-century train shed built to shelter commuter trains into the largest New York City real estate development ever undertaken.
"It's changing the mentality of New York City, which is certainly moving west. Despite a difficult retail environment, retailers are deciding they must be in the very best locations," he said. "The High Line's become the number one attraction in New York, The Shed's about to open. What's going to occur on the West Side will be incredible."
In citing Forest City Washington's premier placemaking triumph, Salzberg returned to an argument advanced earlier by Wood. "It's got to be flexible," she said, explaining some of the initial plans for The Yard eventually were scrapped and replaced with other ideas. Due to the willingness to rethink components, "When we opened our first residential building, it was the fastest lease-up in the history of Forest City," she said. "When you're working at this scale, you have to be able to adapt."
Keep up with our 2017 DLA Piper Conference coverage.