September 30, 2011
By Barbra Murray, Contributing Editor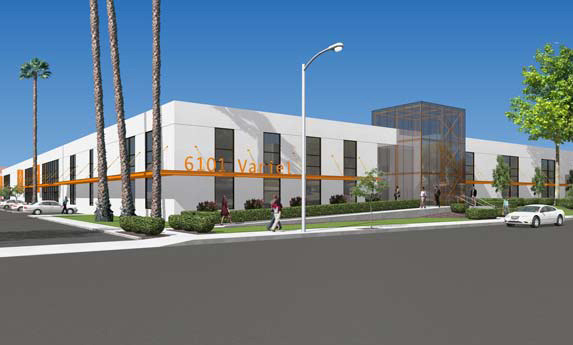 Angelo Gordon & Co. has taken its 145,000-square-foot office/R&D property at 6101 Variel Ave. in Woodland Hills, Calif., from vacant to full. Panavision Inc. signed on to occupy the entire structure, sited approximately 20 miles from Los Angeles in the San Fernando Valley, where it will relocate its global headquarters and distribution facility.
When the time comes to make its move next summer, Panavision will practically be able to walk its office furniture and warehouse contents to its new space at 6101 Variel, as the film and camera systems manufacturer presently makes its home just a half-block away at 6219 De Soto Ave. Panavision tapped international tenant advisory firm Studley to spearhead the search for new accommodations, as it was time for a change.
"Panavision had a number of unique needs including requiring a prime urban location that provided a mix of light manufacturing space, loading docks, and corporate offices in a single low-rise building," Mark Sullivan, executive vice president with Studley, said. Studley combed the market carefully over a 14-month period before steering Panavision toward 6101 Variel. The 38-year-old building features two stories and occupies five acres surrounded by major thoroughfares such as the 405 and 101 freeways, providing easy access to the Port of Los Angeles 45 miles to the south. Additionally, Panavision's 18-year lease agreement with Angelo Gordon, valued at $50 million, includes tenant improvement dollars for the customization of the space.
Third quarter numbers are not in just yet, but Panavision's commitment to 6101 Variel may play a role in moving San Fernando Valley's industrial sector from negative to positive absorption. During the second quarter, the submarket experienced negative absorption totaling 343,900 square feet. However, numbers can be deceiving. The vacancy rate in San Fernando Valley was just 5.4 percent, compared to a national rate of approximately 10.3 percent, according to a report by commercial real estate services firm Colliers International.