By Adriana Pop, Associate Editor
Poipu Beach, Hawaii–Pacific Hospitality Group (PHG), through its affiliate Poipu Investment Properties LLC, has purchased the 121-key Ko'a Kea Hotel & Resort from CTF Ko'a Kea Hotel LLC.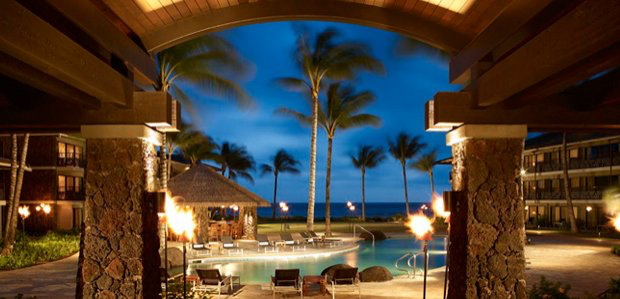 The property, which is located at Poipu Beach on the island of Kauai, regularly ranks as having one of the most beautiful beaches in the world and was recently awarded the prestigious No. 1 resort in Hawaii by Conde Nast Traveler's "Top 25 Resorts in Hawaii: Readers' Choice Awards 2015."
The boutique Ko'a Kea resort is now part of PHG's growing luxury and lifestyle hotel portfolio known as the Meritage Collection.
"Ko'a Kea Hotel & Resort is our first Meritage Collection property located outside of California. Similar to our other Collection hotels, the award-winning resort combines iconic, one-of-a-kind destinations with locally inspired experiences. We are thrilled to become the new stewards of Ko'a Kea and continue the tradition of service excellence which makes this hotel so special for our guests," said Tim Busch, CEO of Pacific Hospitality Group.
f
Ko'a Kea Hotel & Resort offers 121 beachfront accommodations, including nine suites. Guests have access to a fitness center, luxury spa, outdoor pool and 11,170 square feet of flexible indoor and outdoor meeting space. Red Salt, the hotel's restaurant, serves a diverse menu highlighting the fresh seafood and locally sourced produce of Hawaii.
Ko'a Kea Hotel & Resort has been developed on the original footprint of the Poipu Beach Hotel, which was severely damaged by a hurricane in 1992. Following a massive multi-million dollar reconstruction under the direction of renowned designer Anita Brooks, the property reopened in 2009.
Nearby island attractions include Waimea Canyon State Park and Na Pali Coast State Park. Travelers have access to activities like golf, diving, surfing, boogie boarding, snorkeling and swimming.
Eastdil Secured provided advisory services on the transaction. The buyer's legal counsel was The Busch Firm and Pillsbury Winthrop Shaw Pittman in California, and Alston Hunt Floyd & Ing and The Law Offices of Robert Ueoka in Hawaii. Seller legal counsel was Mayer Brown LLP in Washington, D.C.
PHG now has 10 hotels under its ownership and/or management, all of which are located in California, Hawaii and Louisiana.
Image courtesy of Pacific Hospitality Group