By Evelina Croitoru
Preferred Apartment Communities Inc. has purchased Castleberry-Southard, an 80,018-square-foot retail center in the Atlanta area. The shopping center is anchored by a 45,600-square-foot Publix grocery store.
Located at 5475 Bethelview Road in Cumming, Ga., in the vicinity of Georgia State Route 400, the asset is situated within a heavily trafficked area where roughly 37,225 people live on a 3-mile radius. The property's tenant list also includes The UPS Store, Las Palmas Mexican Restaurant and Bethelview Eyecare, among others.
The company acquired the asset through its wholly owned subsidiary New Market Properties LLC. The firm financed the purchase utilizing a non-recourse first mortgage loan from Principal Life Insurance Co. The $11.5 million loan has a four percent fixed interest rate per annum and is due in 2027. PAC and its operating partnership provided no loan guaranties.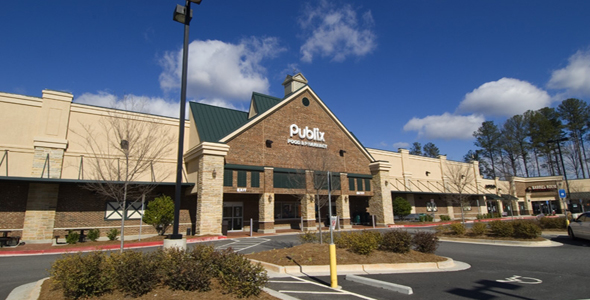 "We believe the synergistic tenant mix of Castleberry-Southard with their strong historical sales performance will continue to benefit from the area's rapid residential growth. The acquisition of Castleberry-Southard increases the size of our retail portfolio to 32 grocery-anchored centers across seven Sunbelt states, consistent with our strategy to acquire well-positioned grocery-anchored centers in suburban Sunbelt markets with strong demographics," Joel Murphy, president & CEO of New Market, said in prepared remarks.
Images courtesy of Retail Planning Corp.