By Gail Kalinoski
Atlanta—Three Ravinia, an 813,748-square-foot trophy office tower in Atlanta's Central Perimeter submarket, has changed hands for the second time in less than four years.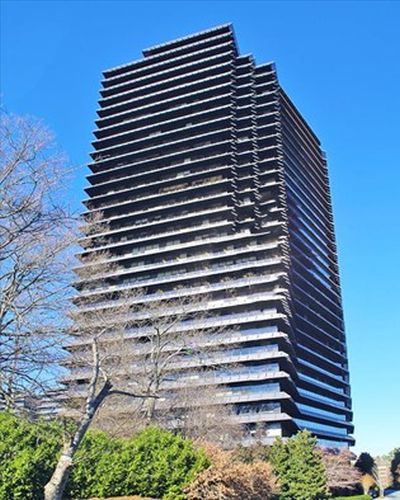 The new owner, Preferred Apartment Communities Inc., an Atlanta-based company which acquired the property through its indirect wholly-owned subsidiary, Preferred Office Properties LLC, did not disclose the sales price. When it was sold in May 2013 by Colonial Properties Trust to CBRE Global Investors, the 31-story office building went for $144.3 million.
The Class A office tower is adjacent to the Crowne Plaza Hotel. The high-rise was built by Hines in 1991 and previously owned by Colonial Properties Trust from 2002 through 2013.
The sale closed late last week. PAC announced its intention to buy the property early last month, noting it planned to fund the transaction with debt financing and a combination of borrowings under its senior secured credit facility with KeyBank National Association, net proceeds from additional issuances, proceeds from anticipated asset sales and cash on hand. John Hancock was providing a non-recourse first mortgage loan at roughly 55 percent of the gross purchase price.
"Three Ravinia is an iconic trophy asset, which we believe will provide very substantial earnings to PAC," Daniel DuPree, vice chairman & CIO, said in a prepared statement.
"The office building is 98 percent leased with an average remaining lease term of approximately 10 years," added John Williams, PAC chairman & CEO.
Major tenants include State Farm and InterContinental Hotels Group, which leases at least 350,000 square feet in the tower, according to Yardi Matrix data. The previous owner scored a coup when it was able to retain IHG as a tenant, signing the global hospitality chain to a lease renewal in the spring of 2015. The Atlanta Business Chronicle reported then that IHG had been searching for new space for about two years before deciding to stay on at Three Ravinia.
PAC, which primarily owns and operates multifamily properties, has also invested in grocery-anchored shopping centers and most recently, office assets like Three Ravinia. In December, Leonard Silverstein, PAC's president & COO, noted that while the company's primary focus would remain on multifamily communities, the firm would also seek "compelling opportunities" outside the core business such as Three Ravinia.
In November, PAC, through a wholly-owned subsidiary, acquired Galleria 75, a seven-acre site in Cobb County, Ga., that had an 110,000-square-foot office property on it. Concurrent with the acquisition, the firm was also able to get the site rezoned to allow mixed-use development, including up to 600 multifamily units, according to a company news release.
During the summer, PAC purchased a nine-story Class A office building in Birmingham, Ala., that was fully leased to tenants including PricewaterhouseCoopers, Merrill Lynch and Kinder Morgan.