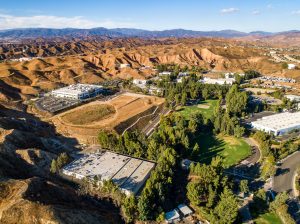 Oxford Properties continues to bet on West Coast life science assets. The Canadian investor has made its direct debut in Los Angeles with the $133.5 million acquisition of Santa Clarita Innovation Park, a mixed-use business park totaling just under 119 acres. Funds managed by Oaktree Capital Management and Intertex Cos. sold the asset. Newmark brokered the deal on behalf of the seller.
Oaktree Capital Management and Intertex Cos. acquired the park—then known as 'Mann Biomedical Park'—in 2014 from MannKind Corp., in a $112.4 million transaction, according to CommercialEdge data. A total of 18 properties changed hands then, totaling 793,100 square feet.
Santa Clarita Innovation Park is situated on Rye Canyon Loop, in Valencia, just under 7 miles north of Santa Clarita and roughly 5 miles off Interstate 5. Oxford Properties purchased a 14-building portfolio, totaling roughly 423,000 square feet, as well as development rights to more than 40 acres within the campus. The undeveloped land is zoned for several types of commercial use. The global investor mentioned it will explore multiple development options, aiming to meet the needs of local and business communities.
The buildings are currently occupied by a variety of life science tenants. One of the larger occupants of the park is Boston Scientific Corp., which leases 180,415 square feet of R&D industrial space at 25155 Rye Canyon Loop. The building was constructed in 2007. Boston Scientific also occupies a nearby building at 25129 Rye Canyon Loop, a 109,799-square-foot heavy manufacturing facility that was built in 1963. Other campus tenants include Bioness, Setpoint Medical Corp., Alfred Mann Foundation and Wolf Creek Brewery.
Securing a foothold
Santa Clarita Innovation Park is adjacent to another large business campus—Rye Canyon Business Park—also occupied by life science and tech tenants. The larger Santa Clarita Valley area has nearly 30 million square feet of industrial and commercial facilities, with a future potential pipeline of approximately 24 million square feet, according to the Santa Clarita Valley Economic Development Corp.'s website.
Oxford Properties chose this location to deploy capital in Greater Los Angeles due to the "clear demand. Valencia possesses around 0 percent life science vacancy and less than 2 percent industrial vacancy. This transaction was a unique opportunity to build on our convictions and service overwhelming demand in a submarket—and congruently, a region—where infill land is exceedingly scarce," an Oxford Properties spokesperson told Commercial Property Executive.
Southern California industrial markets have some of the lowest vacancies in the nation, while a continued demand is driving up both values and rents. As of July, L.A.' industrial vacancy clocked in at 3.4 percent, the Inland Empire boasted a 1.4 percent rate, while the two markets also led the nation in transaction volume, according to a recent CommercialEdge report.
The metro has life science growth potential, boasting high median wages and a deep enough talent pool, a recent JLL report shows. In a recent interview with Commercial Property Executive, founder & CEO of Portal Innovations John Flavin identified L.A. as a market that is "overscienced and underdeveloped" in terms of lab infrastructure, with room for growth.
Targeting growth hubs
Oxford Properties stated that it aims to increase its holdings in life science and industrial assets globally. The firm's capital allocation strategy calls for logistics, life science and residential properties to account for 45 to 60 percent of its global assets under management by 2025.
The Toronto-based investor has made significant capital deployments on the West Coast and other markets this year. Last month, it agreed to buy a 14.5 million-square-foot infill and light industrial portfolio from KKR, for a total of $2.2 billion. The assets are located across 12 markets.
In April, Oxford Properties paid $172.7 million for a mixed-use property near Emeryville, Calif., an asset including a lab conversion option. Earlier, in January, the investor acquired another life science portfolio for $276 million, with assets located in suburban Boston and Emeryville—this transaction also included parcels of developable land.