Orange County's Largest Rental Developments Completed in 2015
More than 4,577 new apartments have been delivered in 2015 throughout the county, a 57% increase from 2014.
By Balazs Szekely, Contributing Editor
Young adults seeking apartments close to their workplaces and leisure and entertainment venues has been one of the main factors that boosted the demand for apartments in Orange County in recent years. While some experts believe that the thousands of new units currently in the pipeline will ease competition for rental apartments, others fear that the vacancy rate will continue to fall. According to Yardi Matrix, the average rent in Orange County is a high $1,864, with the average for newer apartments completed since 2010 having reached $2,371. Rental developments completed in 2015 demonstrate just what these premium tenants are looking for.
We take a closer look at the five largest developments completed last year.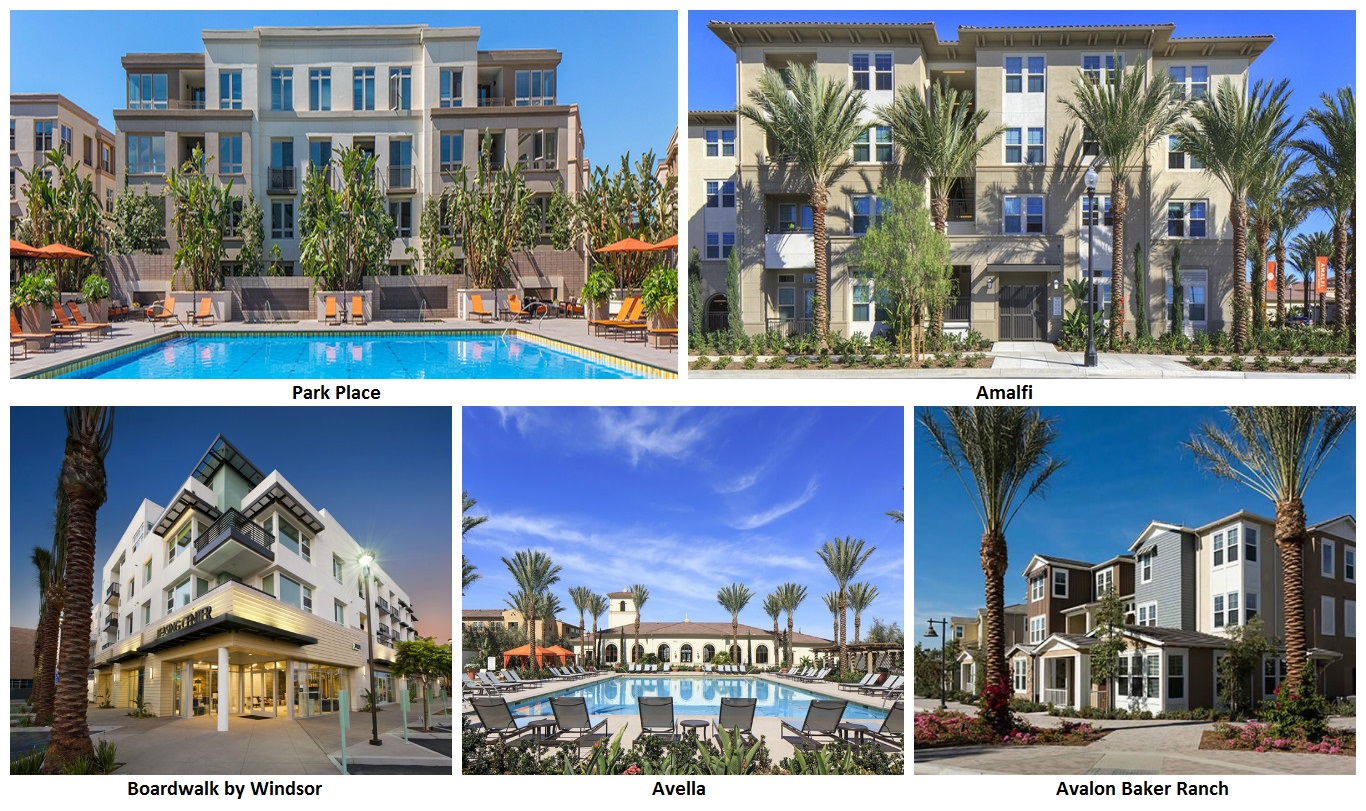 1. Park Place, 989 units
The Irvine Company Apartment Communities epitomized the 2015 apartment development trends with this 989-unit complex. Proximity to business and entertainment districts indicates a young target market, as does the focus on studio, one- and two-bedroom apartments. The well-heeled tenants will find everything they would expect from a luxury complex including: salt water pool, spas, fitness center and outdoor entertainment areas set in courtyards. (Image courtesy of Park Place Official Website)
2. Amalfi, 528 units
The Irvine Company Apartment Communities hits the young rental market with 528, mainly one- and two-bedroom units and all the amenities to match the climate and setting. The Italian themed building features hardwood flooring indoors, and plenty of outdoor relaxation areas. Pet-friendly policies and pet amenities for dog walking and washing round out the package. (Image courtesy of Amalfi Official Website)
3. Boardwalk by Windsor, 487 units
Windsor Communities emphasizes convenient commuting and access to nightlife and shopping opportunities as the major assets of this 487-unit complex. The affluent young market it targets is once again underlined by the preponderance of spacious one- and two- bedroom units equipped with marble countertops and luxury stainless steel appliances. Apart from offering a staggering range of communal amenities, Boardwalk capitalizes on the trend towards 'green' buildings. (Image courtesy of Boardwalk by Windsor Official Website)
4. Avella, 485 units
The 485-unit Avella development from The Irvine Company Apartment Communities follows the trend for resort-style amenities and looks while emphasizing its convenient location in Cypress Village near Woodbury Town Center. Besides the swimming pool, gym and spas, it meets the need for guest entertainment facilities with both indoor and outdoor entertainment areas. (Image courtesy of Avella Official Website)
5. Avalon Baker Ranch, 430 units
AvalonBay Communities, Inc. hasn't been slow to cater for the modern Orange County rental apartment resident. Easy to spot trends in this 430-unit development include a low-rise look, a balance between one- and two-bedroom units, high-end stone countertops, stainless steel appliances, a full amenity package, and Green Building certification. Once again, easy commuting is on the list of highlighted benefits. (Image courtesy of Avalon Baker Ranch Official Website)
For more of 2015's largest apartment projects in Orange County, check out the complete list on the RENTCafé Blog.