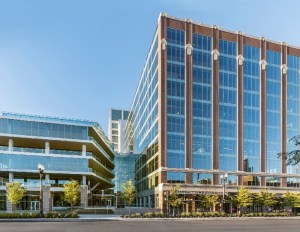 Office Properties Income Trust has completed the acquisition of two Class A office properties—1K Fulton in Chicago and Twelve24 in Atlanta—for a combined $550 million, excluding closing costs.
Though both are core urban Class A properties and well leased to desirable tenants, the buildings are different in substantial ways.
---
READ ALSO: High-Quality Office Product Generates Heightened Investor Interest
---
Located at 1000 W. Fulton St. in Chicago's Fulton Market/West Loop submarket, 1K Fulton was built originally as a cold-storage warehouse and was expanded and heavily redeveloped by Sterling Bay in 2015. OPI acquired the 531,190-square-foot property for $355 million, reflecting a cap rate of 4.7 percent. The seller was American Realty Advisors, according to information provided by CommercialEdge.
The building, which is 73 percent leased to Google as its Midwest headquarters, boasts an overall occupancy rate of 99 percent, with a weighted average lease term of 6.6 years. The property is LEED-certified to the Platinum level and is one block from a Chicago Transit Authority rail stop.
Amenities include 157 underground parking spaces, ground-floor retail, a premier steak-house restaurant, two fitness centers and multiple roof decks.
OPI also acquired the 345,917-square-foot Class A office property known as Twelve24, at 1224 Hammond Drive, in Atlanta's Central Perimeter submarket, for $195 million, reflecting a cap rate of 6.3 percent. The seller was Trammell Crow, according to information provided by CommercialEdge.
The property is 96 percent leased to Insight Global as its corporate headquarters and 98 percent leased overall, with a weighted average lease term of 14.2 years.
Twelve24 was constructed in 2021, provides direct access to MARTA, and features a fitness center, outdoor patio, café, ground-floor retail and 1,023 parking spaces.
Capital recycling
OPI funded these acquisitions using cash and approximately $350 million under its unsecured credit facility. The REIT plans to sell additional non-core properties as part of its capital recycling program to repay drawings under its credit facility.
"These two Class A office properties squarely fit our objective of owning, operating and leasing properties that are primarily leased on a long-term basis to tenants with high credit quality characteristics," Chris Bilotto, OPI's president & COO, said in a prepared statement.
Since commencing its capital recycling strategy last year, the company has sold more than $280 million of properties. The proceeds are now redeployed into acquisitions of newly constructed core real estate in strong, growing markets and leased to high credit quality tenants. "By selling older properties, those with shorter lease terms or upcoming vacancies, we have eliminated anticipated leasing downtime and significant capital expenditures over the next few years," Bilotto added in prepared remarks.
---
READ ALSO: Top 5 Markets for Office Transactions
---
Last November, we ranked OPI at number 17 among the nation's top 20 commercial property owners for 2020, based on self-reported data for all of the companies.
In March, OPI carried out two sales of office assets: the sale of two office buildings in New Jersey and Illinois for a combined $42 million, as well as the $22.2 million sale of an office building in Fairfax, Va.
Those sales followed the December purchase of a fully leased Class A office building in Fort Mill, S.C., on the outskirts of metro Charlotte, N.C., for $35.1 million.