By Adrian Maties, Associate Editor
The tallest building in The Buckeye State is now on the market. Downtown Cleveland's Key Tower is part of a three-property portfolio that its Atlanta-based owner hopes to sell late this year or early 2016.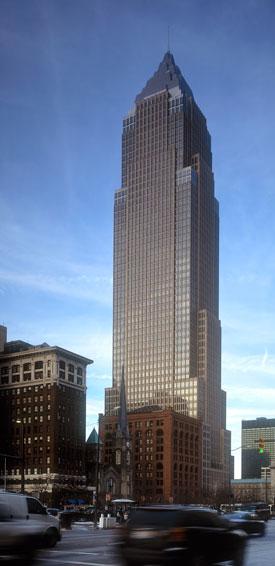 Columbia Property Trust Inc. announced its intention to sell the three properties last week. In addition to the Key Center, the other two assets are the 653,000-square-foot 100 East Pratt in Baltimore and the 961,000-square-foot 80 Park Plaza in Newark. Columbia said that it expects to get between $900 million and $1 billion for both.
The 57-story skyscraper, which opened in the early 1990′s in Cleveland's Public Square, will be sold alongside its adjoining Key Center Marriott. The entire complex offers 1.3 million square feet of office space, 400 hotel rooms and an underground parking garage for 900 cars. KeyBank is the property's anchor tenant and has recently signed a 15-year expansion. Other tenants include the law firms of Squire Patton Boggs, Thompson Hine, and BakerHostetler, which plans to move in in the next several months.
Columbia did not announce a price for the office-hotel complex it purchased back in 2005.
"Our focus is on generating long-term total shareholder returns with an emphasis on growing net asset value. We believe that the dramatic portfolio transformation we have accomplished since late 2011 has positioned us to better achieve those returns," Nelson Mills, president & CEO of Columbia, said in a statement. "With these planned transactions, we will further reduce our exposure to non-target markets and generate substantial proceeds that will allow us to continue building a strong presence in our key markets, repay short-term borrowings, and make additional investments that add value – by repurchasing our stock and/or by sourcing acquisitions in key markets."
The sale is part of Columbia's strategy to focus on properties in more profitable markets. In 2011, the company held properties in 33 markets. Now, its portfolio includes properties in only 15 markets, including San Francisco, New York City, and Washington, D.C.
Photo credit: Columbia Property Trust Inc.