November 18, 2011
By Suzann D. Silverman, Editor-in-Chief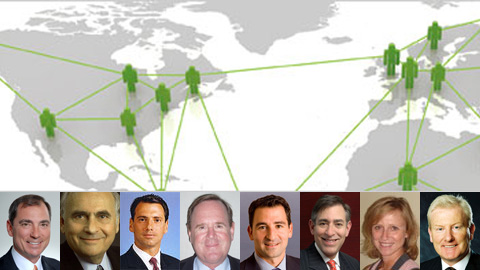 This year's Capital Markets in Real Estate conference by the NYU Schack Institute of Real Estate took on a decidedly positive note. While acknowledging global economic challenges, industry leaders at yesterday's event in New York City do not expect U.S. market performance to descend into a double-dip recession, and they see a variety of opportunities for real estate investment.
Referring to the "bifurcated" economy, Walton Street Capital L.L.C. managing principal Neil Bluhm noted that businesses are doing well and individuals with college degrees have an unemployment rate of 4 percent. And TPG Capital senior partner Kelvin Davis added that middle-market retailers are suffering but high-end and value retailers are performing well. "Real estate will pull out well," he predicted.
This optimism was bolstered by a presentation from economist Sharmin Mossavar-Rahmani, chief investment officer of private wealth management at Goldman Sachs & Co., who pointed out that the U.S. GDP has grown 10 to 14 percent since the trough of the economic crisis. Citing a study that found that following financial crises, the first five years tend to exhibit slow growth but the second five years show a return to growth, she predicted a return to 3 percent growth as soon as next year. Therefore, she added, contrary to comparisons to Japan's 10-year recession, in the United States this is not a "lost decade." Positive movement in some leading indicators offers more good news, she added.
In addition, Mossavar-Rahmani expects the housing market to improve, although it will take another two years for the overhang to be absorbed. People not only still like the idea of owning their homes, she noted, but from 1991 to 2011 the number has actually gone up.
Overseas, she predicted the European Central Bank will bail out its problem countries. It has no choice, she said, noting that German banks would otherwise be hurt, since 45 percent of Germany's GDP is due to exports, 70 percent of them to other European countries. The ECB has a balance sheet, she said—but historically, it waits until the last minute to react to difficult situations.
China, meanwhile, will experience a soft landing, given its financial wherewithal and the number of measures it has already implemented that will prove beneficial. China, though, is no Japan, she added: While it has been much revered for its potential, as with other emerging markets, as its costs of living go up, its GDP will go down. "The risks are not insignificant," she said.
The United States, though, has a strength and resolve unparalleled by other countries, Mossasvar-Rahmani said, and quite a few big real estate investors who spoke at the conference see opportunities domestically. Scott Rechler, chairman & CEO of RXR Realty L.L.C., sees more transaction activity next year, while a number of investors on the structured finance panel anticipate more opportunities arising from distressed properties than have generally been predicted. Among them, Kohlberg Kravis Roberts & Co. managing director Ralph Rosenberg, Colony Capital L.L.C. president Richard Saltzman and Vornado Realty Trust executive vice president & co-head of acquisitions and capital markets Wendy Silverstein all see possibilities, although Silverstein warned that they will not necessarily come at a huge premium. But that may not matter, commented CBRE Capital Partners president Ethan Penner: "The world is adjusting to a lower-leverage capital structure."
Foreign investors, too, are investing in the United States. With equity not always an easy option, Oxford Property Group senior vice president for the U.S. region Andrew Trickett said his firm, based out of Canada, is turning to U.S. debt as an investment alternative. On the other hand, Peter Madden, director of Americas real estate for APG Asset Management U.S. Inc., is pursuing development of malls in secondary and tertiary markets.
Madden has also been pursuing opportunities in Brazil, and he is in good company, as a number of other institutional and sovereign investment fund managers also noted deals they have transacted deals in the major South American country.
Europe's difficulties are also attracting investor attention. Saltzman anticipates distress opportunities there, and private equity investors Davis and Tishman Speyer senior managing director Paul Galliano agreed. "If you have staying power you're going to be able to wait for recovery," he said. And on the financing side, CIBC World Markets Corp. managing director & head of U.S. real estate finance Michael Higgins suggested the lack of activity on the part of European banks leaves open opportunities for others to step in. Those banks' distressed loan pools may also soon provide opportunity for investment, he noted, predicting sale of the pools will be viewed as a way to trim their balance sheets.
Not everyone agrees Europe will provide opportunity. Rockpoint Group L.L.C. managing member William Walton said his company is pulling back on international overall, taking it from 30 to 40 percent down to less than 20 percent. And Mark Finerman, managing partner of LoanCore capital L.L.C., warned that if Europe melts down and leads to massive deleveraging, there will certainly be an impact on the United States, including CMBS.
CMBS as a financing segment got something of a free pass during discussions. Jonathan Pollack, managing director & head of commercial real estate in the Americas for Deutsche Bank Securities Inc., noted it was picking up before the Standard & Poor's downgrade and other events stalled the markets again, and Higgins predicted it will return again.
Such financing will be needed, given the amount of loans that will be maturing. With $1.3 trillion in debt coming due, there will be increasingly more that don't meet insurance company requirements, noted Ladder Capital founding partner Greta Guggenheim. The CMBS model, though, may need to be reworked, put in Prudential Mortgage Capital Co. president David Twardock. He suggested the investor assuming more risk as one alternative.